Cambodia, Vietnam vow close cooperation to fight COVID-19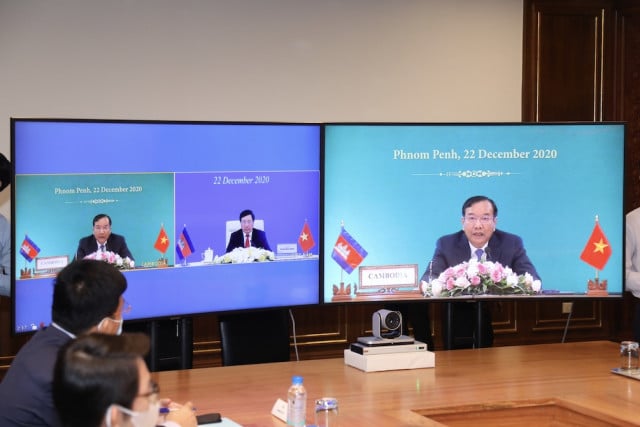 Xinhua
December 23, 2020 9:46 AM
PHNOM PENH-- Cambodia and Vietnam have pledged to work together closely to prevent the spread of COVID-19 along their borders, the Cambodian Foreign Ministry said in a statement on Wednesday.

The pledge was made during the 18th virtual meeting of the Cambodia-Vietnam joint commission on economic, cultural, scientific and technological cooperation on Tuesday, which was co-chaired by Cambodian Deputy Prime Minister and Foreign Minister Prak Sokhonn and his Vietnamese counterpart Pham Binh Minh, the statement said.

Both sides expressed their appreciation for the effective cooperation and mutual support in the prevention of and the fight against the COVID-19 pandemic while sustaining cross-border flow of trade in goods and maintaining investment, it said.

"On healthcare cooperation, the two sides agreed to continue effectively implementing the Agreement on Border Health Quarantine ... and to cooperate closely in responding and preventing the spread of COVID-19 and other outbreaks at the borders of the two countries in a timely manner," the statement said.

They also highly valued the strengthening of cooperation between the border provinces of the two countries including the organizing of training courses, scholarships, study tours, seminars or conferences on healthcare, it added.

The two ASEAN member states have seen remarkable success in containing the spread of COVID-19.

Cambodia has so far recorded a total of 363 confirmed COVID-19 cases, with zero deaths and 349 recoveries, while Vietnam has reported a total of 1,420 cases to date, with 35 deaths and 1,281 recoveries, according to both ministries of health.

During the meeting, the two sides also agreed to step up coordination in combating transnational crimes, organized crime and cybercrime and to improve the mechanisms for the exchange of information in all areas, the statement said.

On the border issues, both sides reaffirmed their commitment to respecting and fully implementing relevant border treaties and agreements signed between the two countries, it said.

They also encouraged their Joint Commissions on Demarcation and Adornment for Land Boundary (JBCs) to work closely and discuss actively to find mutually acceptable solutions in accordance with the international law to the 16-percent remaining undemarcated land boundary.
Related Articles