Cambodia Will Not Face a Crisis as in Some Countries due to COVID-19, Hun Sen Says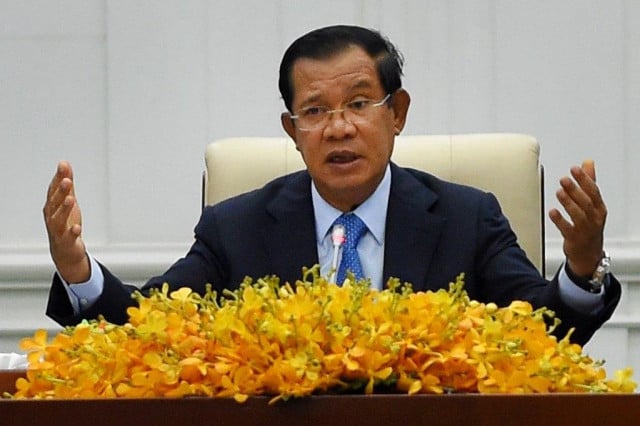 Torn Chanritheara
April 3, 2020 10:30 AM
The government has taken measures to prevent such situations, he says
PHNOM PENH—Prime Minister Hun Sen Thursday (April 2) appealed to the population to trust the measures taken by the government to deal with the Coronavirus Disease 2019 (COVID-19). The situation that some nations have faced will not take place in Cambodia as there is sufficient food and medical equipment in the country to deal with the pandemic, he said.
"Please, all Cambodians, believe in the government's public health measures," Hun Sen said, calling on people to continue practicing hygiene to fight COVID-19.
Addressing the population on his Facebook page, the prime minister gave some details as to how Cambodia has prepared to deal with the disease by stockpiling food and medical equipment.
Regarding medical supplies, Hun Sen said that, as of now, one factory has the capacity to produce 1.2 million face masks and can boost its production if need be.
"The government also has another factory ready to produce 5,000 liters of alcohol-based disinfectant reserved for people and health workers, and increase its capacity to prepare for increasing demand," Hun Sen wrote in the post. Medical equipment such as gowns and hazmat suits will be manufactured in factories in Kompong Cham and Svay Rieng provinces, importing the material that cannot be produced in the country when need be, he said.
Cambodia already has large stocks of medical equipment including medicine, Hun Sen said. And while there may be a need to import some items, the country will have to set up facilities to product medical supplies and equipment for the local market, he said.
As far as food is concerned, the prime minister said that Cambodia has stockpiled rice, salt and other food items, and has even prevented the export of some items to make sure there would be enough supplies for the Cambodian population, no matter the situation. Restrictions on the export of white and paddie rice were introduced so there would be enough supplies to meet the country's demand.
"Samdech Techo has reaffirmed his call on citizens not to panic: Cambodia will not let mass death [to happen] as we have seen in other countries," Hun Sen said on his Facebook page.
In a bid to stem the spread of the coronavirus, the government has ordered the closure of places where COVID-19 may spread due to people's proximity to each other such as casinos, museums and schools. The government has also stopped allowing in Cambodia visitors from some countries especially affected by the pandemic.
As of Friday (April 3), the number of COVID-19 cases in Cambodia had reached 114. A total of 35 patients had recovered and there had been no death dur to the disease.
Related Articles