Cambodian Analysts Back Condemnation of Russian Invasion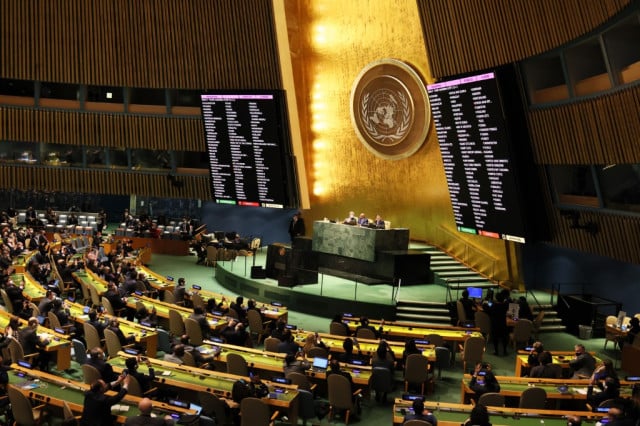 Ukraine votes boost Cambodia's reputation
PHNOM PENH – Cambodian analysts say the government's firm foreign policy position on the Ukraine crisis is in the best interests of the country.
Prime Minister Hun Sen said on March 23 that Cambodia will maintain its position to vote for resolutions condemning Russia, adding that this country is against any act that violates international laws.
Vann Bunna, a research fellow at the Cambodian Institute for Cooperation and Peace and a co-founder of Thinker Cambodia, said that although Cambodia is a developing country, its decision to maintain a specific stance on the Ukraine crisis is important.
"It's a wise choice because it's not only calling for an end to the conflict, but also to protect small countries like Cambodia from being attacked or occupied by major countries," Bunna said.
It would be good if Cambodia as the current ASEAN Chair could lobby other members to join with one voice against Russia's aggression.
Doing so would present a good image for Cambodia as it signals that the country does not tolerate any act that violates international laws and goes against the United Nation Charter.
It might not be in Cambodia's economic interests in the short run but the country would benefit in the future by building better relations with other democratic countries.
"Cambodia will gain political and diplomatic benefits on the international stage. And it allows other democratic countries that stand against Russia's invasion to regard Cambodia as a trusted partner and build a better relationship," he added.
Ro Vannak, the co-founder of the Cambodian Institute for Democracy, agreed that the decision by the government to demonstrate a clear stance was astute and strategic for a small state to survive amid great power competition, adding that this proves that the country supports the rule-based order of international law and the UN charter.
"Cambodia's stance is characterized as a small state's strategic perception to prevent or avoid becoming a victim of bigger countries' invasion or in what we consider the big fish-eating-small-fish environment," Vannak said.
Although Cambodia is a developing country that cannot force Russia to stop its aggression, he argued it is the right and suitable decision to join other UN members to condemn Russia.
Asked about benefits the government can gain, Vannak said the Prime Minister will gain more support and popularity from people who love freedom and justice.
"Cambodia is a small country with a big heart to support goodness, justice and law enforcement by not agreeing to any state using military force against another state," he said.
Related Articles