Cambodian Artist Heng Ravuth Celebrates What We Live in: Our Bodies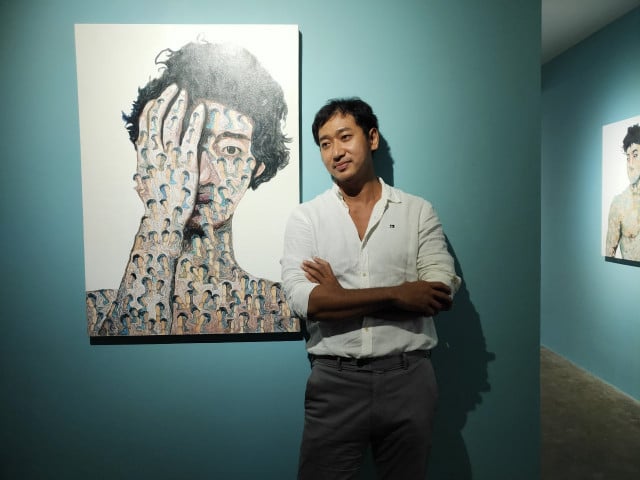 In his latest works, a person's thoughts and feelings surface in series of images on his skin
PHNOM PENH—As human beings, one more element that influences our destiny is the body in which we live and the skin covering it.
This is expressed in sayings such as being comfortable, or uncomfortable, in one's skin, or getting under a person's skin, which means to profoundly affect that person.
And then there is the color of one's skin that may effect how some people interact with a person.
But for artist Heng Ravuth, this goes even further. "For me, I think the body is important, maybe more than words," he said. "With words, sometimes we can hide. But with body language, we cannot hide: Your emotions, your feelings show through your body language.
"The idea is that feelings and expressions can change who you are as a person," he said. "And because the body is just a container…sometimes this can come out. So, the body goes beyond words."
In Ravuth's paintings currently exhibited at the Silapak Trotchaek Pneik (STP) gallery in Phnom Penh, what the person feels or thinks has become visible on his skin, turning into small figures, either in movement or immobile, that are going through the thoughts and emotions he may or may not decide to share with others.
Using himself as the model for the artworks, Ravuth painted on his body on canvas his facial expressions and the movements he made, second by second, while he was thinking. His thought process becomes a series of minuscule portraits of himself covering his body as if it was printed fabric.
This is as if, he explained, "like the feelings, the emotions inside your body were trying to come out…The idea is that, if you remove your clothes…the skin covering your body becomes the clothes with your body inside." This body serves as the container of all those feelings that can change who a person is, Ravuth said. And, as he illustrates in this series of paintings, he said, "sometimes they come out."


In this painting by artist Heng Ravuth entitled "Facepalm," the man portrayed seems to struggle with his thoughts that have emerged on his skin. Photo: Reaksmey Yean
Moreover, this series of acrylic paintings is a way to celebrate the human body. "You know, the body is so, so beautiful," Ravuth said. "Everyone has his own shape, you know, his own character." Which is why every person should appreciate and take care of his or her body, he said.
Born in 1985 in Phnom Penh, Ravuth studied painting at the Royal University of Fine Arts, graduating in 2006. The following year, he became part of Stiev Selapak, a group of artists and photographers who had started to work together while taking a class with French photographer Stephane Janine.
Ravuth became quite interested in photography at the time, and started to create collages of photos on canvas and to combine photography and painting.
He also started to explore the human body in his work, using himself as a model. "For me, I think the body is important, more than words," he said. "We cannot hide. With words, sometimes we can hide behind words. But with body language, you cannot hide. Your emotions, your feelings show through your body language."
By featuring the human body in his work, Ravuth is in line with a tradition that goes back thousands of years. The Greeks and the Romans of millennia ago were fascinated by the beauty of the human body and their artists sculpted statues of men and women that can be seen today in museums across the world.
Beyond its beauty, this human body in which we live is our universe as people, Ravuth said. Made of molecules, veins and blood, it becomes the universe through which we can live, act and express feelings: It is our universe, he said.
The exhibition runs through July 9.
The Silapak Trotchaek Pneik art gallery is located at the YK Art House, 13A Street 830, off Sothearos Boulevard), in Phnom Penh.
For more information: https://www.facebook.com/STPCambodia


Painting by Cambodian artist Heng Ravuth entitled "Pray." Photo: Reaksmey Yean
Related Articles