Cambodian Artist Promoting Khmer Culture in Ukraine through Painting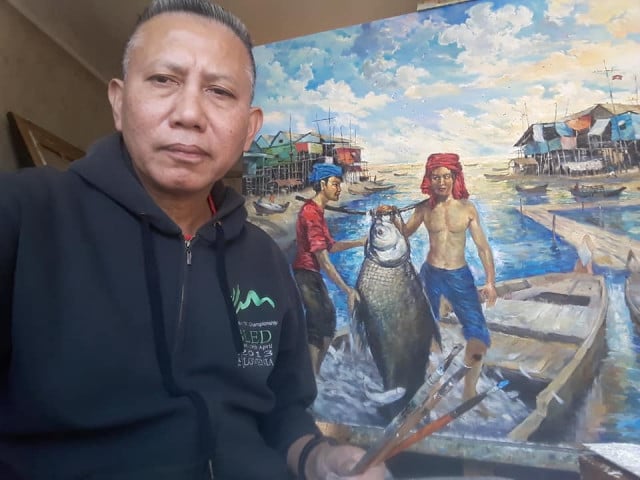 For almost three decades, Ouk Dara Chan has been promoting the history and culture of Cambodia through his paintings in Ukraine, where he is a celebrated artist and teacher
PHNOM PENH--Since 1995, Ouk Dara Chan has been promoting Khmer culture in Ukraine through an exhibition of nearly 20 paintings of Angkorian civilization.
The 60-year-old artist said that painting is his unique way of portraying Cambodian culture for the world. An alumnus of the School of Fine Arts, Dara Chan has spent close to 30 years painting in Europe after receiving a scholarship for a Master's degree in fine arts in the Soviet Union in 1985.
After completing his degree in painting, he began his exhibition of Cambodian civilization and culture in Ukraine in 1995. The exhibition was held at Government House and brought his work to the attention of the Ukrainian people. He was then given the opportunity to become an art teacher at the Ukrainian School of Fine Arts.
Since then, Dara Chan's exhibitions have combined paintings inspired by both Khmer and Ukrainian cultures and were on display until the COVID-19 pandemic saw art galleries around the world close.
The exhibitions, Dara Chan explained, are largely self-funded as he said he does not wish to sell his displayed paintings as they came from the heart and mean too much to him.
"When I was poor, the Ukrainian Ministry of Defense offered me $7,000 for one painting, but I did not sell it because I didn't want to lose it," Dara Chan said.
"In the future, those paintings will be even more valuable for the national culture. I do sell my paintings, but I only sell the paintings that people asked me to paint. The paintings I paint by myself are from my heart. Therefore, I don't sell them," he added. "The paintings are of the same quality but different hearts."
Dara Chan now is taking care of around 50 paintings—70 percent of which are inspired by Cambodia and the rest are about Ukraine—most of which are more than one meter tall and each of which took him between three and four months to create.
"I was asked why I paint Cambodia a lot but not Ukraine," he said. "I responded that I painted Cambodia in Ukraine so that the Ukrainians would know more about Cambodia. When I returned to Cambodia, I would paint things from Ukraine so that Cambodian people could know more about Ukraine."
Dara Chan, who left Cambodia some 36 years ago, said that living in other countries had made him appreciate the national culture more than ever, noting that his understanding of culture and a national identity is manifested by not seeing Khmer culture in his everyday society.


"People living in Cambodia do not seem to see the value of their culture," Dara Chan explained. "But those who live far away from Cambodia realize that Cambodia has a high level of culture. When I met Khmer people in Ukraine, I was ecstatic."
Having lived far from his family for a long time, Dara Chan said his work is a demonstration of love and respect for Cambodia, particularly the Angkorian period, adding that he is proud to have created exhibitions that have generated a curiosity in Cambodia among his Ukrainian admirers.
However, he said he likes to paint based on events that take place in connection with national art and culture. Controversies over Angkor Wat, Preah Vihear Temple as well as Lakhon Khol between Cambodia and Thailand, for example, made him paint to promote that those cultural heritages belonged to Cambodia.
"I don't paint a lot of landscapes because every country has those," he said. "I love to paint things from the Angkorian Era since only Cambodia has Angkor Wat. Cambodia, in terms of promoting, is losing to Thailand because Thailand does more than us. Some people say Angkor Wat belongs to Thailand. When I tell them it belongs to Cambodia, they don't believe me. So, I tell them to do more research. Ukrainians know a lot about Cambodia through my work."
Dara Chan, who is also a taekwondo instructor, joined the National Union of Artists of Ukraine in 2010. He said that this is a great honor for him because the entrance exam to the union is hard, adding that for a foreigner to pass is even rarer.
"You have to pass eight exams to become a member of the union," he said. "Some people have taken the exam 10 to 20 times but still do not pass. Everyone wants to join the union because it is an honor and our ability will be recognized. Most of the members are Ukrainians."
Dara Chan said his retirement from teaching at the Ukrainian School of Fine Arts is scheduled for the end of 2021, but he will then have more time to paint and promote the cultural heritage of Cambodia.

Additional reporting by Teng Yalirozy
Related Articles