Cambodian Artist Thun Dina Mixes Images of Country and City Life in his Exhibition "Chrysalis"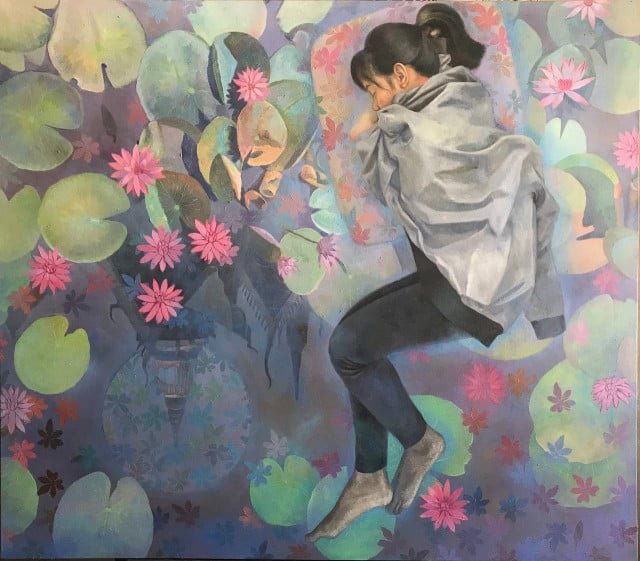 His work reflects a country in which many still live and work in ways of a past century
PHNOM PENH--In one of Thun Dina's paintings currently exhibited in Phnom Penh, a young Cambodian woman is sleeping on a bed of waterlilies. Her jacket wrapped around her shoulders and wearing pants, she seems in the deep sleep of the exhausted. A slight reflection of the National Museum building can be seen in the water, which puts her in Phnom Penh.
This painting entitled "Sleep in Peace" is inspired by a true incident, explained the Cambodian artist who is also a drawing teacher at the Yamada School of Art in Phnom Penh. "I saw my student sleeping on the floor and I noticed the composition," he said. "Later on, I asked her about her background. She said she was from a province but, due to a family issue, she had come to Phnom Penh and wanted to be a graphic designer. Later on, I drew a girl sleeping on the water with her dreams."
This painting, which he titled "Sleep in Peace," is part of "Chrysalis," a series of oil paintings that Dina produced over the last three years and that are currently exhibited at the art gallery of the Sofitel Phnom Penh Phokeethra in Phnom Penh.
As he explained, the works are inspired by childhood memories and his experience of moving away from a tranquil hometown next to a fishing village to the "land of hope" that Phnom Penh represented for him.
Through this exhibition, Dina said, "I had an idea that I should show the public what I have been through when I was young and when I first came to Phnom Penh…These paintings are about my memories, my hometown, and Phnom Penh City."
He named his series "Chrysalis," which means revolution or growth, he said, as he sees himself having been a caterpillar who turned into a butterfly: A kid who grew up in a rural area of Kampong Cham Province and has become an artist who professionally works in the field. "It's like what I have faced or encountered during the process of growing up," Dina said.
Born in 1989 in Tboung Khmum Province's Krouch Chhmar District—the district was previously a part of Kampong Cham province—Dina spent his childhood living next to a village of Cham people—of Muslim faith and whose kingdom was originally in the southern part of today's Vietnam, Cham people have been living in areas of Cambodia and southern Vietnam for centuries.
Behind Dina's family home was the Mekong River where most Cham people fished as their source of income. Many of his neighbors and the children he played with were Cham. And, although his family did not fish, his memories are of a kid watching life along the river, fishing boats, and meeting people with different traditions and culture in Cambodia. "One time In Phnom Penh, I went to the other side [of the Chroy Changvar area] of the Chaktomuk River, behind the Sokha Hotel," he said. "I was suddenly reminded of my childhood when I saw Cham people going about their lives."
Dina and his family moved to Phnom Penh in 2002. And this is when he started his real journey into painting.
"I have liked drawing since I was young, living in my hometown," he said. "But there were not places that taught drawing in the province. So, in Phnom Penh, I asked my mom to enroll me in an art school where I learned to draw until I graduated high school in 2010."
After completing high school, Dina knew that he wanted to pursue an art major. He enrolled at the Royal University of Fine Arts and graduated with a Bachelor of Art in Oil Painting in 2014.
While at university, he met Japanese artist and teacher Takakazu Yamada who was teaching one of the drawing courses that were part of the university's curriculum, and also had a private art school, the Yamada School of Art. So, Dina also enrolled at that school to improve his basic drawing skills.
After graduating from university, Dina was offered the opportunity to be a drawing teacher at the Yamada School, which he accepted.
Then in 2017, one of Dina's paintings was selected to be exhibited at the 81st Shinseisaku International Exhibition in Tokyo, Japan.
Dina spent nearly three years creating the 18 paintings for his series currently exhibited at the Sofitel hotel gallery.
"Finding the concept for each painting was challenging," he said. "It's not like drawing based on physical figures like Angkor Wat. My paintings are not real scenery. The concept and the composition are devised."
Dina's paintings have so far featured in 10 group exhibitions and been exhibited three times in Japan. "Chrysalis" is his first solo exhibition.
Following this first experience, Dina intends to exhibit his work more often in the country and to compete again to have his work shown at the Shinseisaku International Exhibition. "This year, I want to focus on this competition, which will take place in September," he said.
Dina encouraged those who love drawing to keep pursuing their dreams and practicing until they can master it. This training can lead to many jobs, he said, such as designers or illustrating children's books.
"There are jobs awaiting them, but the question is whether they want to do it or not," he said. "I think that people in Cambodia still think the painting or drawing field doesn't have a market. But in a developed country, it's a profession and artists can make a living with it."
Thun Dina's "Chrysalis" exhibition runs through the end of April.
For more information on the exhibition: https://www.sofitel-phnompenh-phokeethra.com/offers/chrysalis-exhibition-by-thun-dina/
The gallery is located at the Sofitel Phnom Penh Phokeethra hotel, 26 Old August Site Sothearos Boulevard in Phnom Penh.
Related Articles