Cambodian-Cham Girls/Young Women and Education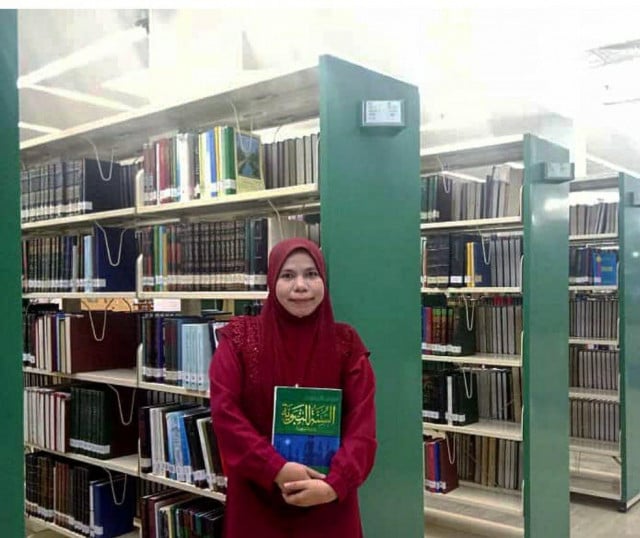 Him Imrorn
August 21, 2020 1:01 PM
The Obstacles They Have Faced to Get Higher Education
Born in a fishermen's family in Kandal Province, Faridah Yaakob is now pursuing her Ph.D. degree in Quran and Sunnah (Islamic studies) at the International Islamic University of Malaysia (IIUM). She completed her baccalaureate and Sijil Menengah Ugama (secondary certificate of religion in the Malaysian system) in Cambodia; her Sijil Tiggi Agama Malaysia (Malaysian high certificate) and bachelor's degree of Islamic studies; and a master's degree and Ph.D. in Quran and Sunnah in Malaysia. In addition to fluently speaking Cham and Khmer, she can manage Arabic, English and Malaysian. Him Imrorn interviewed Yaakob and asked her about the difficulties and obstacles Cambodian Cham women like her may encounter when it comes to pursuing a higher education journey.
Him Imrorn: As a Cambodian Cham woman eager to study and now being a Ph.D. candidate, in your opinion, what is the major obstacle you and all Cambodian Cham women tended to face in the past when they wished to get higher-education degrees?
Yaakob Faridah: The major obstacle to get a higher education, first and foremost, is financial problems. I have been facing it from high school until now, but all problems are just tests and have solutions. Second, I personally think that it is self-confidence. Most women, including me, have this problem. So, we have to remind ourselves that we have to grow positive thinking in our minds. Plus, it is our family's support. As we know, in Cambodia we still have a negative mindset about women getting higher education. As the saying goes, "[n]o matter how much higher education she has, she still becomes a housewife." The root cause of this negative stereotype was because they were not educated. They do not value education and they do not know the importance of education in life. Usually, they just think that men can become teachers, professors or whatever with a high-ranking status while females cannot.
Besides, most Cambodian Cham girls in previous eras got married right after they had finished high school or even at just 13 years old. In this regard, the husband is also a part of this. Anyway, based on my observations, today the age of getting married for females is at least after they finish high school, and between 20 to 22 years old is still okay for them.
Him Imrorn: Since the religion of the Cambodian Cham is Islam, is the religion also a barrier? Why or why not?
Yaakob Faridah: For me, I think religion is not the problem. And yet, it is the main factor that motivated me to be who I am now. There are many shreds of evidence in the Quran and Hadith—the speech of the Prophet Muhammad, which encourages both men and women to get higher education. So, the claim that religion is an obstacle is just a misconception, I believe. The first verse in the Quran is "Read." This verse was not said specifically to men or women, but it emphasized the whole of humanity. Also, the prophet said "seeking knowledge is compulsory." So Islam prompts us to get high education in religion and academically.
Him Imrorn: Beside religion, what did motivate you to strive and break all those barriers?
Yakoob Faridah: Having a clear goal to understand the Quran is fundamental. Also, one of my biggest commitments is to benefit our society. To be able to do so, I need to have a high level of knowledge either academically or in religion. After finishing my bachelor's degree, I felt that my knowledge was not enough to benefit our society and I still felt the same after I got my Master's degree. That's why I decided to pursue my Ph.D. now. Finally, despite being demotivated at some point, my mother always supports me and prays for me.
Him Imrorn: So far, what are the problems leading to illiteracy among Cambodian Cham girls?
Yaakob Faridah: It is, of course, many problems. First, they, who do not receive an education, cannot manage their lives as well because they lack knowledge. I have seen many people who just got married and then divorced a few months later. Second, it does not affect only them but also their children's future. When they do not value education, they will not send their children to school as their parents did. So, when children are illiterate, it leads to big problems for society such as drug abuse, domestic violence, unemployment and so on.
Most importantly, those who are unemployed, especially girls, will have nothing to do beside housework. Thus, in their free time, they will be gossiping or do something similar, which is not useful. This leads to arguments within the family or the neighborhood.
Him Imrorn: Regional stability brings more and more Cambodian Cham girls to achieve higher education. What have been the significant factors contributing to this?
Yakoob Faridah: The reason is because, nowadays, parents are more knowledgeable and understand the importance of education. Also, economic stability leads to better financial support. Beside their family's resources, there are many sponsors outside and inside the country providing many opportunities including schools, scholarships and other needs. Previously for Islamic study, scholarships from Saudi Arabia mainly focused on men, so a girl had less chance. Anyway, there are many other countries such as Malaysia and Indonesia that offer opportunities to girls to continue their higher education too. Last but certainly not least, it is the school system. It is crucial to have a dual program, academic and Islamic studies, for Muslim believers. Previously, some women also wanted to get a higher education, but they did not have any chance because the location of the school was too far from their homes, which was not safe for them, and the curriculum was only the academic program while we, as a Muslims, must also focus on Islamic studies.
Him Imrorn: In the same context as the previous question, what are the positive impacts on them and society?
Yakoob Faridah: The growing number of Muslim girls getting higher education provides much inducement. When a woman has higher education, it is easy for her to get a job, which gives them extra revenues to support their families. So, the living standard is improving. Additionally, domestic violence and some other problems are decreasing as they get more education. As we know, every mother is a person's first teacher. Therefore, if she is well educated, she will make sure the same happens to her children. For a society, there will be more peace and no more joblessness. Then, the country will be more developed eventually.
Him Imrorn: What is your message to strengthen the power of Cambodian Cham girls and young women in terms of education?
Yakoob Faridah: My suggestion to the young generation and especially Muslim girls is that, first, they need to have a clear goal, which addresses what they exactly want. Then, try their best to achieve that goal [while abiding] by moral values. Most importantly, try your best to complete everything you can and pray to God. Also, I encourage parents who have daughters or husbands to give big support and motivation to our Cham girls to get higher education because they are the source of happiness and peace for families, countries, and the whole of humanity. Finally, you need to be always instilling positive thinking in your mind about the future. As Muslim women, we have to be proud of ourselves because in Islam we are praised, having a chapter in the Quran entitled "Female." Do not think too much about your age of getting married because, in Islam, we believe that our destiny is arranged by the almighty God. Try your best to become a good Muslim female, through education and morally, and firmly believe that the almighty God will give us a spouse who is right for us at the appropriate time.
Related Articles