Cambodian Designer Incorporates Sbek Thom Shadow Puppetry into Fashion Contest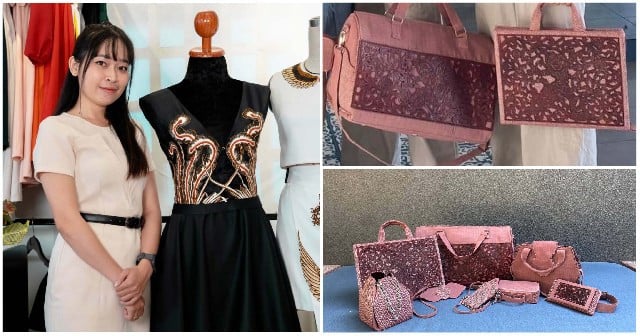 At just 27 years old, Sok Panha is hoping to showcase Khmer culture through her Sbek Thom inspired handbags in Germany after entering a design contest
PHNOM PENH--A Cambodian designer hopes to showcase her handbags in Germany after being inspired by Sbek Thom, the traditional art of Khmer shadow theater, which she has incorporated into her work as part of a competition.
Having graduated from the Phnom Penh International Institute of the Arts in 2018, Sok Panha then went on to undertake a short course in design through the institute, which lasted for more than seven months and has culminated in a competition for students to have their work showcased in Germany.
Now, 27-year-old Panha aims to incorporate Khmer culture into her designs.
"I decided to design the bags with Sbek Thom because I want to show Sbek Thom to the world as the bags will be showcasing in Germany," Panha said.
Sbek Thom is believed to have been practiced since before the Angkorian time and consisted of shadow puppetry performances that were reserved for special occasions, such as Khmer New Year. However, throughout the Angkorian period, Sbek Thom grew in popularity and the puppets were joined by musicians and a narrator—as many as 160 puppets would be used for a single performance.


However, like all art forms, Sbek Thom was almost lost forever under the Khmer Rouge's genocidal regime, but has since been resurrected and was recognized by UNESCO's List of the Intangible Cultural Heritage of Humanity in 2008.
Taking inspiration from the bamboo and leather puppets used in Sbek Thom, Panha has created eight bags that she said she hopes will remind Cambodian people to appreciate their culture.
"I want to promote our culture to let people know that Cambodia has awesome culture and arts," Panha emphasized. "Moreover, I have noticed that the Sbek Thom has been left unconcerned, and there are not many audiences when there is a shadow theater show."
But while Sbek Thom has failed to regain its former popularity, Panha said she was flattered by the overwhelmingly positive responses to her designs so far, although her success has not come easily.
Throughout the production process, Panha has had to be careful in selecting the right materials, in particular the cowhide which she has carved into images of Hanuman—the Monkey God—and the iconic Chan flower design, as well as Phni flower shapes as seen at Angkor Wat.
Moreover, the bags are made from pieces of silk woven by Cambodian women who use pure yarn and no chemicals, she said.
"I had a hard time in making these bags as I did not have any experience," she said. "I had to seek help from bag tailors, a leather carving place and the silk weaving association."
Panha hopes that her contribution to Cambodian culture through the design of her bags will get her through the first round of voting in the competition so that she can take her bags to Germany.
Whether she succeeds or not, Panha said she needs to study the local market to ensure that her designs can be recreated at a cost that would be acceptable for the Cambodian market.
Additional reporting by Teng Yalirozy
Related Articles