Cambodian Hearts Go Out to Origami World Record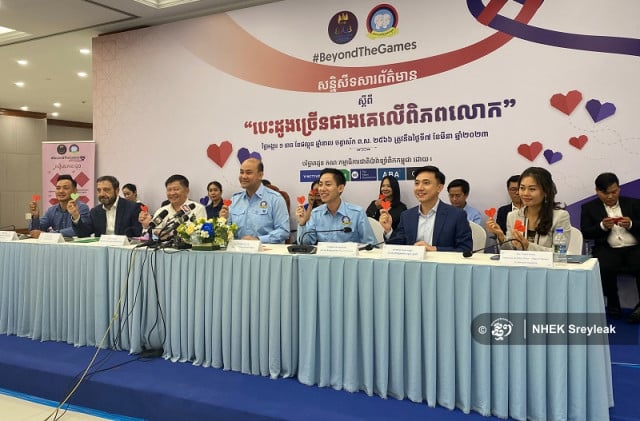 PHNOM PENH – A campaign to create the world's largest display of origami hearts has been launched to connect Cambodians with the SEA Games and ASEAN Para Games and to support disabled athletes.
The "BeyondTheGames" campaign aims to make a million origami hearts, beating the British record of 53,704 set in 2019.
Created by the Union of Youth Federations of Cambodia (UYFC), the campaign will promote the 32nd SEA Games and the 12th ASEAN Para Games which kick off in May. Cambodia is hosting the event for the first time.
The hearts will be put on display at the Angkor Sangkranta event 2023, the SEA Games, and the ASEAN Para Games.
Folding the heats is not only to break the Guinness World Record, but also represents the unconditional love, motivation and support of Cambodians, UYFC president Hun Many said. It showed Cambodians' solidity and unity to support the athletes.
Campaign chief executive officer Sok Sabayna said the plan was to collect a million hearts with each one worth 500 riel. For the campaign, five companies will contribute a total of 500 million riel or $125,000.
The hearts will be collected on April 2. The money earned from the campaign will be donated to athletes with disabilities.
"It's beyond the normal paper hearts. These hearts represent the support of the Cambodians for the athletes. It's like a social work," Sabayna said.
"All citizens can participate in folding the hearts at the places in where there are #BeyondTheGames signs."
However, the idea had been criticized. Hun Many said, "I respect their opinions. Whether they want to participate and support it or not is their right.
"Viewing from another aspect, the people who joined in the 'longest hand-woven scarf or Krama' or 'the biggest rice cake (onsorm)' records were the ones who sacrificed their time to volunteer.
"It is not a problem. We are delighted, and we will go on."
Breaking the world record was not the country's only purpose. The campaign also aims to create a forum joined by relevant stakeholders and to promote Cambodia internationally.
Hun Many hopes there will be many good memories for those who fold the hearts after the Games end.
The "BeyongTheGames" campaign has been proposed officially to the Guinness World Records organisation.


Originally written in Khmer for ThmeyThmey, this story was translated by Meng Seavmey for Cambodianess.
Related Articles