Cambodian Kickboxers in SEA Games Finals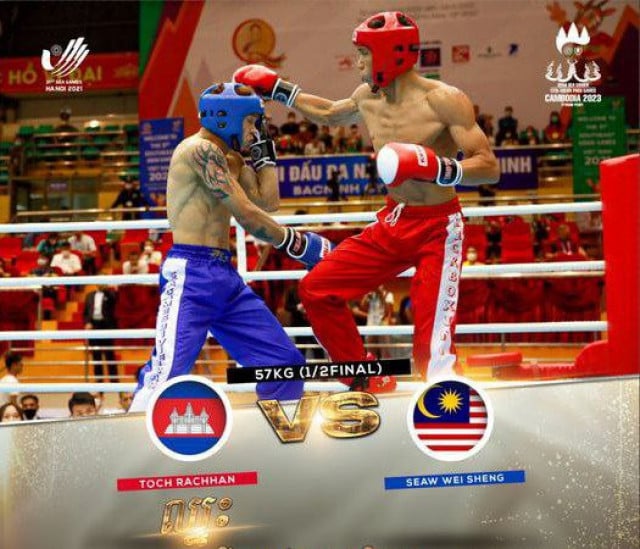 Second batch of delegates arrives in Vietnam
HANOI – Three Cambodian kickboxers won their matches on May 10 to advance to the finals at the 31st SEA Games 2022 in Vietnam.
Touch Rachhan was the first Cambodian kickboxer to reach a final after defeating his Malaysian counterpart Seaw Wei Sheng.
Two other athletes, Lorn Panha and Kan Meng Hong, went on to beat Thai Rodnok Ophat and Malaysian Aqwang Marajaya Awangku Abdul Rahman, respectively.
Kickboxing is a form of boxing based on kicking and punching. It is practised for self-defence, general fitness and for competition.
Meanwhile, the second batch of Cambodia's delegation left for Vietnam on Tuesday.
On the mission to participate in the regional sports event, which is held every two years, are 120 sports delegates, including mission officers, research officers, administrative officers, medical officers and athletes from a number of sports disciplines. Three categories of sports include golf, eSports and petanque.
This is a larger delegation than ever before in the Games with about 560 athletes and officials expected to take part. The event is important as Cambodia host the 32nd SEA Games in 2023.
The Cambodian athletes have been given free flights on Cambodia Airways after receiving attention from Prime Minister Hun Sen.
Related Articles