Cambodian migrant workers flock home for Ancestor's Day family gathering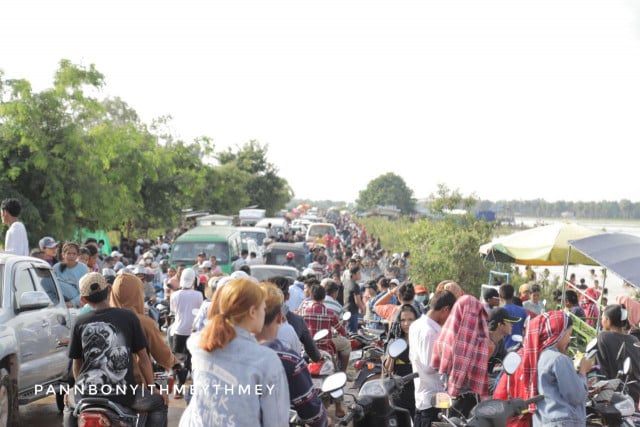 Xinhua
September 27, 2019 5:14 AM
PHNOM PENH-- Tens of thousands of Cambodian migrant workers began to leave Phnom Penh, capital of Cambodia, on Thursday for their home provinces to celebrate traditional Pchum Ben festival, or the Ancestor's Day, which starts from Friday until Sunday.

They took buses, taxis, boats, and motorcycles as they journey home to enjoy the occasion with their family members.
Phnom Penh, home to about 2.1 million people, has most of the migrants from various provinces. As they leave the city for home, the whole city will be quiet and most shops will be closed.
A garment factory worker Hen Saran, 45, said the festival is one of the two occasions when she usually visits her hometown.
"In a year, I visit (my hometown) two times on the occasions of the Pchum Ben festival and the Khmer New Year," she told Xinhua while taking a free bus to her hometown in southeastern Prey Veng province. "It's the time to see relatives and parents at the hometown."
To facilitate travel and reduce travel cost, the government has announced to provide free bus services from the capital to the provinces from Thursday to Monday, according to a statement of the Phnom Penh City Bus Authority.
About 120 city buses, many of them were donated by the Chinese government in 2017, have been used to serve passengers during the holiday period, the statement said.
Tep Sina, a 31-year-old restaurant employee in Phnom Penh, said the free bus services had saved him at least 40,000 riel (10 U.S. dollars) for a round trip.
"Previously, I took a taxi (to hometown), spending more than 20,000 riels (5 U.S. dollars) for a single trip," he said on the free bus to southeastern Svay Rieng province.
"I'm happy to ride the bus for free and thank the head of the government for allowing us to ride the bus free of charge. It saves me a lot," he added.
Pchum Ben festival, the country's 2nd largest traditional celebration after the Khmer New Year, is to honor the dead through offering food and other stuff to the souls of deceased ancestors through reciting by Buddhist monks.
During the 3-day jubilant occasion of Pchum Ben, Buddhists bring food and praying things to offer to Buddhist monks at pagodas in order to dedicate to their ancestors and wish for longevity, good luck, happiness and prosperity.
Related Articles