Cambodian Navy to Join China Military Exercises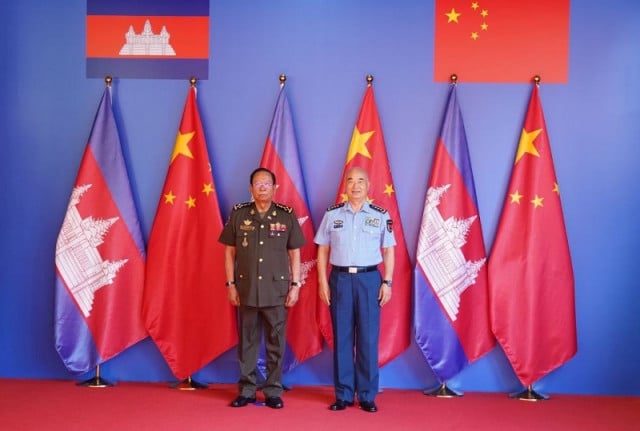 PHNOM PENH – Cambodia is to extend its joint military exercises with China to include the Navy, Minister of National Defense Tea Banh says.
Cambodia held its third annual Golden Dragon exercise with China in 2020, involving training in the use of tanks, armored vehicles, spy devices and demining.
Banh spoke of the extended exercises at Phnom Penh International Airport after a four-day visit to China for the first meeting of a joint commission between Royal Cambodian Armed Forces and the People Liberation Army.
​The commission includes a sub-committee on military cooperation and a sub-committee on military technical cooperation.
The development came as controversy over an alleged future role for China in the Ream Naval Base in Sihanoukville refuses to die down.
Bahn said Cambodia will continue to discuss military exercise with China as Cambodia has the Ream base and is prepared. The Navy is included in the next exercises.
Modernization of the Ream Naval Base to strengthen Cambodia's defense of its sovereignty has prompted US concern about any Chinese role. Critics say any Chinese involvement would lead to a loss of sovereignty.
The controversy erupted in 2019, when the Wall Street Journal reported that China and Cambodia had a secret agreement for China's military to use part of the base, possibly helping China press disputed territorial claims and economic interests in the South China Sea.
PM Hun Sen reject the allegation, calling it fabricated.
Banh said Cambodia had repeated its stance that the country welcomed support from every country for improvement and modernization.
"What needs to be done is what needs to be done, whether it is cooperation with friendly countries. We are not aiming to offend anyone," he said.
"We also welcome friends in the region as well as the world. If you are willing to help develop, build or push forward the Ream Naval Base, we welcome all."
Cambodia also reaffirmed to a US congressional delegation that no foreign military bases are allowed on Cambodian territory.
The assurance was made at a meeting in Phnom Penh on Aug. 16 between Suos Yara, chairman of the National Assembly Commission on Foreign Affairs, International Cooperation, Propaganda and Information, and government representatives and the US delegation led by Senator Edward J. Markey.
Last year's Cambodia-China exercises were postponed on the grounds of saving money during the COVID-19 outbreak.
Prak Sokhonn, Foreign Minister and deputy prime minister, has also told the U.S. that Cambodia will not allow foreign troops to be stationed on its territory.
Related Articles