Cambodian Para-Athletes Receive over 2 Billion Riel from Government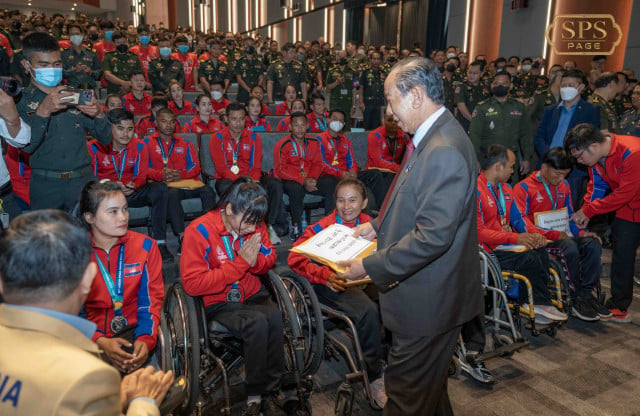 PHNOM PENH – Tea Banh, the chairman of both the Cambodian SEA Games Organizing Committee (CAMSOC) and the Cambodia ASEAN Para Games Organizing Committee (CAMAPGOC) granted a total of 2.7 billion riel (around $670,000) to para-athletes who won medals during the 11th ASEAN Para Games 2022, which were held in Indonesia in July and August last year.
The award ceremony was held on March 13 at the Ministry of National Defense to show the support of the Cambodian government to para-athletes who brought back a total of 28 medals from the competition.
Cambodian para-athletes achieved podium success in 14 different sports, gathering 7 gold medals, 10 silver, and 11 bronze.
The money incentive granted by the government aims to encourage Cambodia's 154 para-athletes, as well as their coaches and assistant coaches, a few months ahead of the 12th ASEAN Para Games, which will be held in Cambodia for the first time.
Deputy Prime Minister Tea Banh also delivered a message of encouragement to all people with disabilities.
The 32nd SEA Games will take place in Cambodia from May 5 to 17, 2023, and the 12th ASEAN Para Games from June 3 to 9.
Vath Chomroeun, CAMSOC's general secretary has said that Cambodia will spend $124 million on both games.
SEA Games will feature 37 different sports and one demonstration sport (no medal count), and the ASEAN Para Games will feature 14 different sports.
Athletes who win gold medals will receive $10,000 in prize money, while silver medal receivers will be awarded $7,000, and bronze medals $3,000.
Originally written in Khmer for ThmeyThmey, this story was translated by Te Chhaysinh for Cambodianess.
Related Articles