Cambodian Para Athletes Top the Country's Medal Tally as the Para Games Close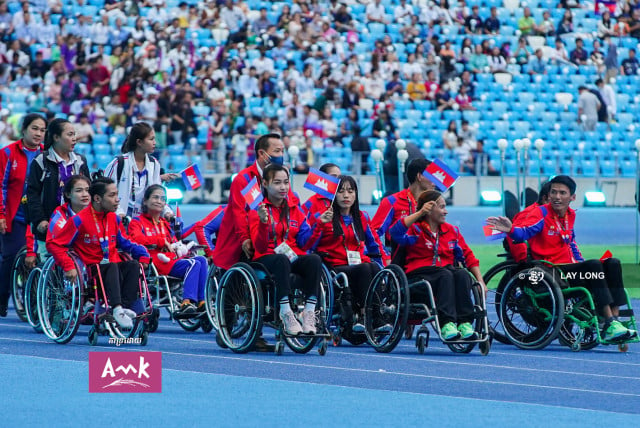 PHNOM PENH – The 12th ASEAN Para Games came to an end with pageantry and fireworks during a ceremony held on June 9 as Cambodia, the host country, also celebrated its athletes' best ever performance at the games.
Cambodian athletes competed in all 13 sports that involved 439 events, and won nine gold, 18 silver, 43 bronze for a total of 70 medals, ranking 8th in the overall tally. In the 11th edition of the games held in Indonesia last year, Cambodia won seven golds, 10 silvers and 11 bronzes for a total of 28 medals.
As spectators could see during the para games that began on June 3, athletes from every ASEAN country did their best to bring glory to their countries. Cambodia ended up winning six gold, 13 silver and 24 bronze medals in para athletics. Moreover, Cambodian athletes won two golds in para powerlifting and one gold in women's basketball wheelchair 3x3. Para athlete Vet Chantha won three gold medals herself while powerlifter Kong Sela won the two golds in powerlifting.
Winning two golds has helped Kong Sela to eliminate his painful feelings of being discriminated against, having been a tuk tuk driver in the past. "I went through all kinds of insults," he said. "But I still believed in myself, that I would be able to do it."
At the Morodok Techo National Stadium, Prime Minister Hun Sen announced the end of the games before the flame was put off, signaling that the 12th ASEAN Para Games were officially over, having started on June 3.
"We have done our best to ensure that the 12th ASEAN Para Games were organized in accordance with the international standards of the games," he said to the cheering audience.
The prime minister then said that Cambodia will host an even bigger sports event in 2029 when the country will host the Fifth Asian Youth Games.
During the 12th ASEAN Para Games closing ceremony, several spontaneous performances were staged by thousands of spectators before the fireworks began.
Thailand will host the 13th ASEAN Para Games in January 2026.
Related Articles