Cambodian PM calls for collective responses, solidarity to fight COVID-19 at ASEAN summit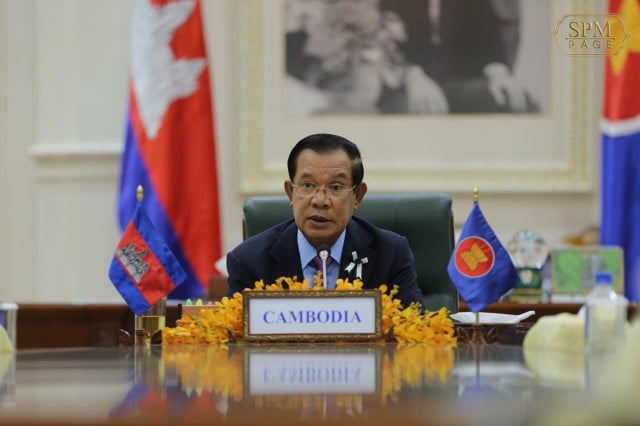 Xinhua
June 26, 2020 9:33 AM
PHNOM PENH -- Cambodian Prime Minister Samdech Techo Hun Sen told the leaders of the Association of Southeast Asian Nations (ASEAN) on Friday that collective responses and solidarity are crucial to win the fight against the COVID-19 pandemic.
Speaking at the 36th ASEAN summit via video conference, Hun Sen said the pandemic has brought about a number of challenges including public health safety, disruption on mobilization and global supply chain as well as severe social impacts and global economic downturn.
"In this context, the collective responses and solidarity based on multilateralism, especially under the United Nations framework, are indispensable," he said. "Truly, this is not the time for playing a blame game, discriminating, or disengaging the allies based on political agendas."
The prime minister said Cambodia fully supports the World Health Organization (WHO) as the leading and coordinating authority in the global fight against the COVID-19 pandemic.
"While looking forward to the earliest success of vaccine development, Cambodia is calling on the vaccine to be a global common goods which can be accessed by all," Hun Sen said.
He said ASEAN is proud that its region has been relatively successful compared to other regions in the fight against COVID-19.
As a future direction, ASEAN must be strategically well prepared for post-COVID-19 period, he said.
"To achieve this goal, ASEAN should come up with a clear and prudent recovery plan that lays out various scenarios for gradual reopening of cross-border travels within the region, intra-regional trade, and the revival of sectors that are most affected by the crisis," Hun Sen said.
He also emphasized the importance of digital connectivity and digital economy, saying that digitalization has played an important role in offsetting productivity losses due to the COVID-19 pandemic.
"In this sector, we can see huge potential of markets and workforce that has not yet been fully utilized," he said.
"Moreover, the disruption caused by the pandemic has made us aware of greater need for ASEAN to foster digital infrastructure development as well as support for digital economic integration in the region at the time that ASEAN is putting efforts on restoring the economy in the context of the crisis," he added.
Founded in 1967, ASEAN groups Brunei, Cambodia, Indonesia, Laos, Malaysia, Myanmar, the Philippines, Singapore, Thailand and Vietnam.
Vietnam is currently the chair of ASEAN.
Related Articles