Cambodian PM praises China for tremendous achievements over last 70 years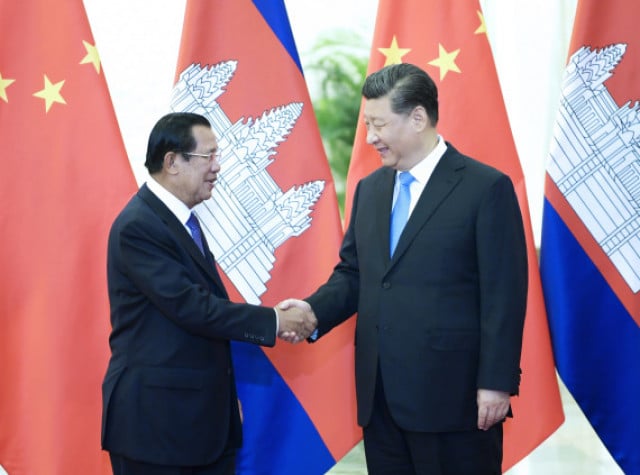 Xinhua
September 26, 2019 12:03 AM
PHNOM PENH -- Cambodian Prime Minister Hun Sen on Wednesday hailed China for making tremendous achievements over the past 70 years.

"On behalf of the Royal Government and People of Cambodia, I would like to congratulate and praise the Government and People of China for countless magnificent achievements under the competent leadership of the Communist Party of China since 1949," he said in a speech during a gala dinner celebrating the 70th anniversary of the founding of the People's Republic of China.
China has realized a rapid and strong development in all sectors and cemented its position as one of the global economic powers, said the prime minister.
Hun Sen expressed his deep gratitude and appreciation to China for its assistance to Cambodia, saying that the two countries have enjoyed fruitful cooperation at both bilateral and multilateral levels for the interests of the two countries' peoples as well as for common peace, stability and prosperity in the region and the world.
"Relations between our countries are based on equal footing and mutual trust for common interest," Hun Sen said. "Cambodia firmly sticks to the one-China principle while China firmly respects the independence and sovereignty of Cambodia."
Meanwhile, Hun Sen said reforms and rapid progress in all sectors by China benefited not only the Chinese people, but also the people of the world as a whole.
"In fact, China's Belt and Road Initiative really helps strengthen and expand mutually beneficial partnership, win-win cooperation, and common prosperity of countries along the belt and road through the connectivity of physical infrastructure, institutions and peoples as well as cooperation in the business, culture and other important sectors in the present and the future," he said.
The gala dinner was attended by about 500 guests including government officials, lawmakers, businesspeople, and foreign diplomats in Cambodia.
Speaking at the event, Chinese Ambassador to Cambodia Wang Wentian said that on Oct. 1, 1949, the People's Republic of China was founded, which ushered in a new epoch of the history of China, and started the new road of great rejuvenation of the Chinese nation.
China's huge success opened more approaches towards modernization for developing countries, provided new options for countries longing for both rapid development and national independence, and contributed new solutions to problems of the mankind, he said.
The ambassador added that over the past seven decades, China has also actively contributed to safeguarding global peace, security and development.
Wang said that China and Cambodia have always been supporting each other, treating each other on an equal footing, and helping each other on issues related to core interests and major concerns of each other. The China-Cambodia relationship has become an example for countries of different sizes, national conditions and social institutions to pursue friendly exchanges and common development.
"Next, the mutually beneficial cooperation between China and Cambodia will further promote the quality and step up the pace," said Wang.
Related Articles