Cambodian Representative to UN Lashes Out at Special Rapporteur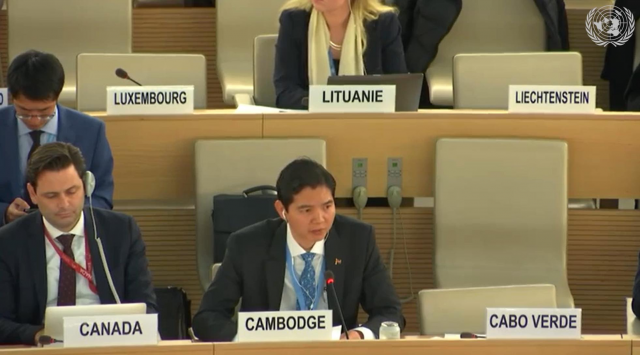 At the 43rd session of the UN's Human Rights Council, An Aokkhoeurn rounded on Special Rapporteur Rhona Smith for her criticism of Cambodia's respect for human rights.
PHNOM PENH--The Permanent Representative of Cambodia to the United Nations (UN) An Sokkhoeurn on Monday (June 15) stated that the UN Special Rapporteur on human rights is "neither a judge nor a prosecutor" in his defense of Cambodia's commitment to human rights.
Sokkhoeurn, who also serves as Cambodia's ambassador to Switzerland, once again lashed out at the currently serving Special Rapporteur Rhona Smith at the 43rd session of the UN's Human Rights Council yesterday, where he also claimed that Cambodia meets the obligations of the international agreements it is a signatory to.
As if offering proof of this, Sokkhoeurn said that Cambodia is aware of the role of special procedures in the promotion and protection of human rights, which is why it has accepted six Special Rapporteurs on the issue since 1993.
Last year, Cambodia and the UN signed an agreement to extend the mandate of the Office of the United Nations High Commissioner for Human Rights (OHCHR) in Cambodia for two more years. Rhona Smith first arrived in Cambodia as the UN's envoy on human rights in September 2015, but has since clashed frequently with the government over rights abuses and democratic failing.
Following the 2018 national elections where the ruling Cambodian People's Party won all 125 seats in the National Assembly, Smith said that the result was not legitimate without the participation of the Cambodia National Rescue Party.
However, at this week's Human Rights Council meeting, Sokkhoeurn suggested Smith should be more scrupulous regarding the accuracy of details in her reports and should question whether there are political motivations behind them.
"Their mandates must be carried out in full adherence to the Code of Conduct and the Operation Manual of the Special Procedures of the Human Rights Council. They must always seek to establish facts based on objective, reliable information emanating from credible and duly cross-checked sources as prescribed in Articles 6, 8 and 9 of the Code of Conduct," he said, without pointing to any specific inaccuracies.
He went on to note that these principles must be abided by when it comes to communications and statements made to the press by the Special Rapporteur, arguing that Smith's mandate was to assist Cambodia in the field of human rights through dialogue and cooperation without implying any value judgement.
Just last week Sweden announced it would be revoking bilateral aid to the Cambodian government over what it perceived as a complete lack of interest in democracy or human rights. This came months after the European Union decided to partially revoke Cambodia's access to the Everything But Arms preferential trading scheme, also citing democratic backsliding and human rights abuses as key factors in their decision.
Sokkhoeurn once again reaffirmed Cambodia's commitment to engaging in all human rights mechanisms and fulfilling the obligations of the eight core human rights conventions of the UN, despite mounting evidence submitted by national and international observers of a deteriorating respect for human rights in Cambodia.
Related Articles