Cambodian scholarships for Timor-Leste students will begin in October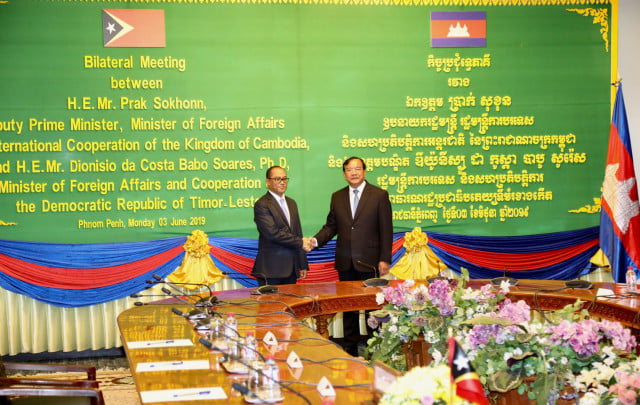 Thmey Thmey
June 4, 2019 9:53 AM
Both countries will work together to improve tourism, trade and education sectors
PHNOM PENH--Deputy Prime Minister Prak Sokhonn held a meeting with Timor-Leste's Foreign Minister Dionisio da Costa Babo Soares Monday, during which they pledged to boost cooperation in the tourism, trade and education sectors.

In tourism, Cambodia and Timor-Leste have been negotiating a memorandum of understanding (MoU) to increase the number of tourists between the two countries, said Ket Sophann, spokesman for Cambodia's Ministry of Foreign Affairs and International Cooperation.
"Concerning the MoU on tourism, we hope to finalize it very soon," he told Thmey Thmey on Tuesday. Sophann did not give more detail as to when this may be concluded.
In the field of education, Cambodia will provide this year 10 scholarships to Timor-Leste students as Prime Minister Hun Sen had announced during his first official visit to that country in 2016, Sophann said.
"The scholarship program will begin in October and the University of Cambodia will be the host," he said.
Regarding trade, the two ministers agreed at the meeting that the trade volume remains relatively small, Sophann said. They promised to encourage their respective chambers of commerce to work hand in hand to develop bilateral trade, he added.
Da Costa Babo Soares Monday also met with Prime Minister Hun Sen and assured him that his visit aimed to strengthen friendship, bilateral relations and cooperation between the two countries. Hun Sen responded that Cambodia and Timor-Este must work together to encourage and expand cooperation in economy, trade, tourism and culture.
The prime minister also noted that Timor-Leste was now well prepared to join the Association of Southeast Asian Nations (ASEAN), having opened embassies in all 10 ASEAN country members and increased capacity of its civil servants and in the economy and financial sectors.
Timor-Leste formally applied to join the regional body in 2011 but its application is still being assessed and, although it is fulfilling requirements listed in Article Six of the ASEAN Charter, its accession requires consensus among ASEAN members.
Speaking at a university graduation ceremony on Monday, Hun Sen had mentioned that he supported Timor-Leste becoming Asean's 11th member, support he had first voiced in 2016.
Hun Sen also congratulated the 10 Timor-Leste students who will study in Cambodia thanks to Cambodian scholarships.
Cambodia and Timor-Leste established diplomatic relations in 2002 after the country declared its independence from Indonesia following a United Nations referendum in 2002. Economic and diplomatic cooperation between the two countries have since expanded.
Related Articles