Cambodian Women's Wheelchair Basketball Team Eyes Gold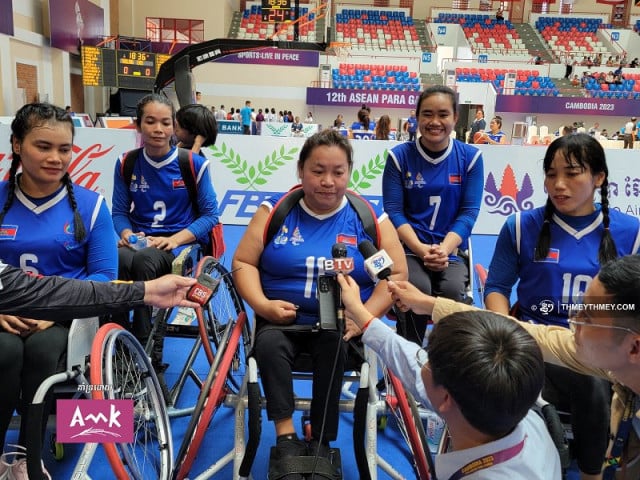 PHNOM PENH – The Cambodian women's 5x5 wheelchair basketball team is committed to beating its Thai opponents during the finals, which will take place on June 7 at the Elephant Hall, in the Moradok Techo National Stadium.
After Cambodia's victory 40-25 against the Philippines on June 6, the country secured a place in the final, where it will play for gold against Thailand.
It will be the second time in the tournament that Cambodia meets with Thailand.
Tao Chanda, an athlete on the Cambodian basketball team, said that even though Thailand defeated Cambodia 49-32 in the qualifying round, she and her teammates will do their best to win the gold medal.
"The Thai team is strong, but we will do our best to win the gold medal for the 17 million Cambodians," she said.
She hopes that a lot of fans will come to watch the match and support the team.
A similar scenario happened in women's wheelchair basketball 3x3, which will hopefully be a sign for the 5x5 upcoming final.
After the Cambodian team lost against Thailand in the qualification phase, it eventually won in the finals on June 3, defeating the Thai team 2-0 in sudden death.
In the women's 5x5 wheelchair basketball tournament, the Cambodian team finished second with two wins and one loss while Thailand came first after winning all three of its matches.
Laos and the Philippines ranked 3 and 4 respectively, with only one win for Laos and none for the Philippines.
Originally written in Khmer for ThmeyThmey, this story was translated by Te Chhaysinh for Cambodianess.
Related Articles