Cambodian Workers in Thailand Return to Cambodia for Khmer New Year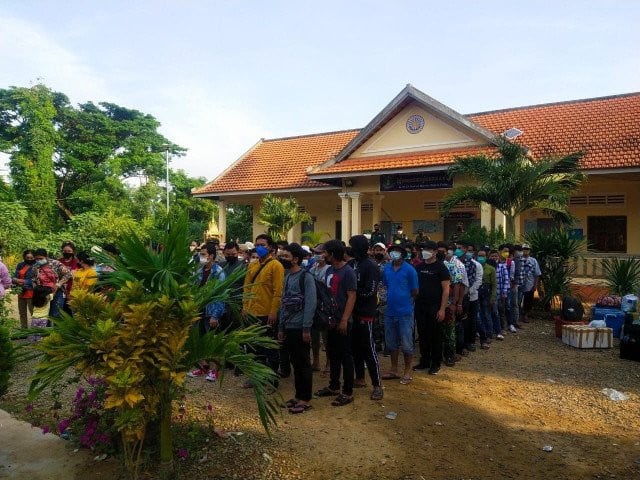 Thousands come back to Cambodia for the first time in two years
PHNOM PENH – Cambodian workers in Thailand rushed back to their hometowns to celebrate Khmer New Year festivities for the first time in two years.
After being prevented from crossing the Thai-Cambodian border in 2020 and 2021 for sanitary reasons due to the ongoing COVID-19 pandemic, many Cambodian migrant workers in Thailand are eager to travel to their hometowns to meet their families. The Cambodian authorities urge them to strictly pay attention to health measurements.
Dy Thehoya, program officer at the Center for Alliance of Labor and Human Rights (Central) said that Cambodian legal workers in Thailand are rushing back to their hometowns through Doung, Prum, O'Anlok and Lem, border checkpoints to attend the New Year.
He went on to say that border authorities checked the workers' immunization cards, as most of them were properly vaccinated in Thailand. After checking the vaccination card, the authorities allow the workers to travel in taxis back to their hometown without any quarantine.
However, Thehoya calls on the government to facilitate the cost of the workers' journey to their hometowns.
"The government should monitor the taxis, as drivers tend to increase their prices during the Khmer New Year," he said. "Taxi drivers should also respect the social distance on their vehicle, due to the probability of being infected with the Covid-19 virus."
Central's program officer also urges the relevant authorities to prepare appropriate measures to receive migrant workers. They could include free medical check-ups at the border, transportation arrangements to return home or setting up proper quarantine centers for workers who don't have vaccination cards or are positive to COVID-19.
Dy Rado, Oddar Meanchey deputy governor, said that he has not yet observed any irregularity from returning workers, since authorities checked whether or not they had their vaccination cards. Those who don't, have to do a rapid test and are being quarantined for 14 days if the result is positive, he added.
He said that around 800 workers per day crossed the O'Smach international checkpoint from April 1 until last weekend. But the crowd decreased to about 500 migrant workers a day since then.
"We strictly check their vaccination card and do a rapid test for some workers who don't have their vaccination card. If the test is negative, we let them go to their hometown and practice the Ministry of Health's instructions," he said.
Immigration Department spokesman General Keo Vanthan said that with the return of Cambodian citizens from Thailand, officials have not noticed any problems so far. The immigration police force has cooperated with local authorities to organize social order at the border gate.
Vanthan received some reports of positive COVID-19 workers, but only a small amount.
He added that from April 1 to April 7, a total of 5,316 Cambodian workers returned from Thailand, and 3,994 workers were repatriated by the Thai authorities, including 1,621 women.
Related Articles