Cambodianess Journalists Win Asia Reporting Award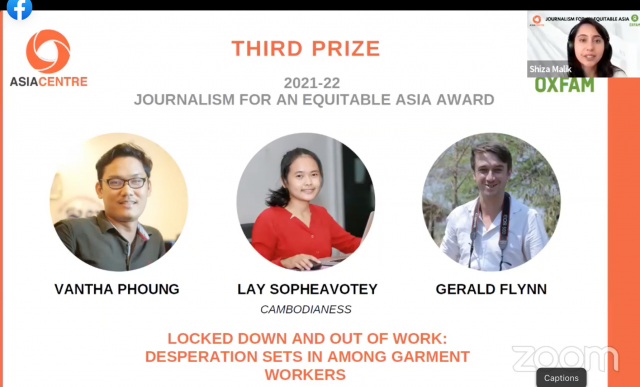 Story highlighted garment workers' Covid plight
PHNOM PENH -- Cambodianess writers have taken third prize at the Journalism for An Equitable Asia Award organized by the Asia Center and Oxfam in Asia. The Oxfam 2021-22 Award Ceremony was held online on March 15.
Lay Sopheavotey, Phoung Vantha and Gerald Flynn took the prize for their article "Locked Down and Out of Work: Desperation Sets in among Garment Workers."
There were 150 submissions from Bangladesh, Cambodia, China, India, Indonesia, Malaysia, Myanmar, Nepal, Pakistan, Philippines, Singapore, Timor-Leste, Thailand and Vietnam.
Only journalists who wrote ten top stories showing inequality during the COVID-19 pandemic were selected to compete, while only three stories were up for prizes.
Jame Gomez, regional director of Asia Center, said the merit award winners and the top ten journalists had highlighted the COVID-19 impact on unemployment faced by marginalized and vulnerable communities, which increased inequality.
"These communities have been pushed so much back," he said. "What you show is about keeping eyes on the government to see what they can do to bring employment to vulnerable people to slow down inequality, stop inequality and then strengthen them so that they can climb the ladder," Gomez said. "This is what we have learned from your submission."
John Samuel, regional director of Oxfam in Asia, said the pandemic had exacerbated inequality and injustice in Asia in the last two years, fostering unprecedented social, economic, gender and political inequality.
Journalists had become crucial to explore and expose the challenges that the vulnerable faced during the global pandemic.
"We want to appreciate journalists who stood up for justice, equality and who reported migrant workers, women, ethnic, religious and linguistic minorities," he said.
"Your voice is also the voice of people, and your effort is also the effort to promote human rights, quality, justice, and democracy as well as standing up for the real mission."
Vantha said the pandemic had affected the workers in the garment sector, one of the biggest employers in Cambodia. The workers had been exploited and abused. They faced a lot of debt because their wages were low.
They did not even have enough income for food and basic necessities, yet the factories did nothing to help them during crisis, he said.
"Inequality in Cambodia is already extreme," said Vantha. "The pandemic highlighted just how extreme it was becoming and the garment sector reflected this. So, when COVID-19 hit, hundreds of thousands of Cambodian garment workers became very desperate, so that's why we wanted to report on this issue."
Atom Araullo of GMA News Online won the first prize for "The Hunger Pandemic" while Marielle Lucieno of Rappler won the second prize for "The gold trap: COVID-19 is pushing more Filipino children into hazardous work."
Related Articles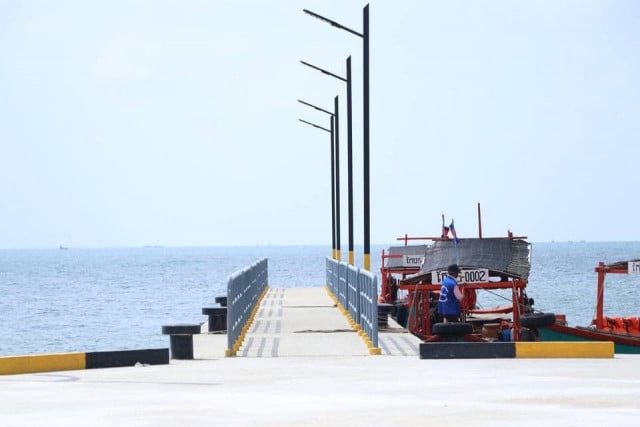 January 20, 2022 11:24 AM