Cambodians Stranded in Malaysia Finally Able to Fly Home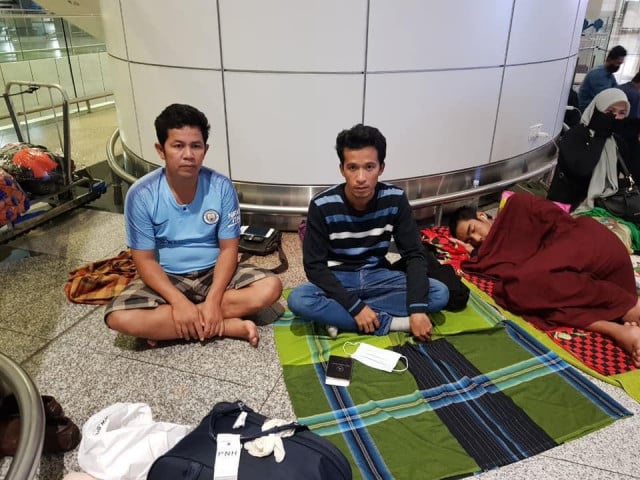 Following more than a month of being stranded abroad, jobless and homeless, the Cambodians stuck in Malaysia will come home June 16, but must pay for the flights themselves.

PHNOM PENH--The 143 Cambodians who have been stranded in Malaysia for more than a month due to the Coronavirus Disease 2019 (COVID-19) pandemic will be flown home on June 16, according to an official statement from the Ministry of Foreign Affairs.

The Ministry said that Cambodians who missed out on the April 7 Malaysia Airlines flight will be able to board an already scheduled commercial flight on June 16. Flight MH762 leaving Kuala Lumpur at 4.30 p.m. will arrive in Phnom Penh at 5.25 p.m.

However, in the statement, the ministry conceded that the total number of Cambodian passengers who are scheduled to fly on June 16 currently stands at 204, but only 115 Cambodians who missed the April 7 flight will be onboard.

"Only 115 Cambodians who missed the flight on April 7 [will return] some of whom did not provide information to the embassy and some chose not to return to Cambodia because they are returning to work and others are going to school. The other 89 passengers acquired their tickets through an additional ticket company selling," the ministry's statement said.

This comes after Prime Minister Hun Sen's decision not to allow Cambodians stranded abroad to return home drew the ire of rights groups, both domestically and internationally, but as the COVID-19 situation has grown less tense in Cambodia, Hun Sen decided to allow his stranded compatriots to return. Since then the plight of the Cambodians stranded in Malaysia has been frustrated by a series of policy changes from Hun Sen and a lack of commercial flights back to Cambodia following the government's decision not to charter a flight for them.

On 12 June 2020, a chartered flight brought 60 Cambodian nationals, including some students, home from India to Cambodia.

Despite the urgency of the situation, the Cambodian government is apparently refusing to pay to bring its citizens home.

"We can only help with facilitating the legal process, but for the budget, I think they can handle by themselves," said Koy Kuong, spokesperson for the Foreign Affairs Ministry. Kuong went to add that the government is happy to help, but will not be paying for the flights of its citizens.

He added that the government or embassy would be able to facilitate the return of Cambodian citizens and students in other countries if they requested to come back to Cambodia. He noted that the important factor is whether countries have reopened the flightpaths back to Cambodia as normal or not.

As of June 15, the total number of officially confirmed cases across the country to 128 with 125 having made a complete recovery, the Ministry of Health said.


Related Articles