Cambodians Trapped in Thailand Face Food Shortages, Lack Medical Supplies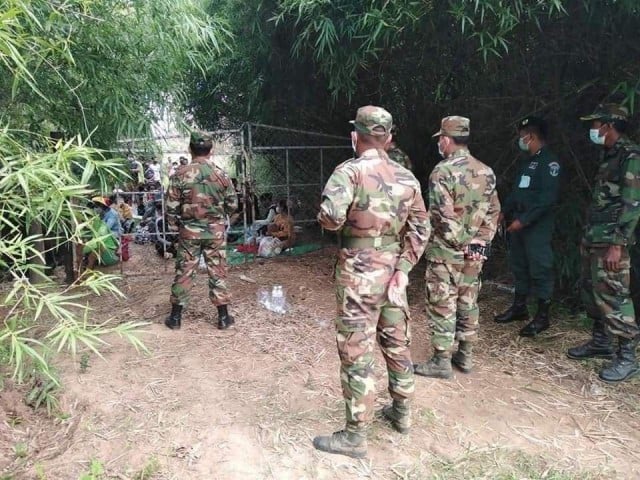 Rights groups have said that the Cambodian government's assistance to stranded migrant workers has been limited and many now have no income, no food and no access to the Thai health system
PHNOM PENH--More than 200 Cambodian workers are stranded at the Cambodia-Thailand border and have been provided with food and shelter by Cambodian embassy officials and Thai authorities, Minister of Foreign Affairs and International Cooperation spokesman Koy Kuong said on Aug 4, 2021.
Kuong said that 216 Cambodian workers are stranded at Ta Phraya District, Sa Kaeo Province, Thailand, which borders Thma Puok District, Banteay Meanchey Province.
The Cambodian Consulate General in Sa Kaeo Province, in cooperation with Thai authorities, visited the stranded workers and brought them food and COVID-19 protective equipment.
"Officials from the Consulate General have cooperated with the relevant authorities in both Cambodia and Thailand of those provinces to transport food and provide safe accommodation for them," he said
The workers were advised not to attempt to cross the border due to the risk posed by COVID-19 and were told they needed to stay put until the Cambodian government had finished preparations for proper testing and quarantine facilities.
This comes after the Delta variant of COVID-19 has ravaged Thailand, where much of the work that migrating Cambodians are employed in has ground to halt in recent weeks. The flow of returning migrant workers was linked to several cases of the Delta variant in Cambodia, which led to a government directive announced on July 28 that locked down eight provinces bordering Thailand and imposed a curfew from 9 p.m. to 3 a.m. as well as a temporary closure of the Thai border.
This prompted concerns that the border closure would lead to more migrant workers attempting to smuggle themselves home to Cambodia, which experts warned poses a greater risk of COVID-19 cases not being identified.
Sum Chankea, provincial coordinating officer for the human rights group ADHOC said that the stranded workers are facing a shortage of food and medical services as a result of the border closure.
"They continue to rush back, some trying to come by themselves, some being transported by the Thai authorities to the corridor," he said. "They are blocked along the border and our authorities do not allow them to enter. Some authorities also helped to provide food for them, but some other workers are starving, suffering from food shortages and illness."
Vorn Pheakdey a Cambodian worker who has been working in Thailand for more than 10 years said that he's suffering from health problems with headaches and a fever, but said he has been unable to access health services due to the COVID-19 outbreak in Thailand.
Having not found medical treatment, Pheakdey said that now he just tries to stay away from his wife who has just given birth to prevent her from getting sick if he has COVID-19.
"I suspect I've contracted COVID-19, but there is no doctor or clinic because it is very difficult for me as Cambodians to find a check-up service," said Pheakdey. "Some Thais also find it difficult to get a check-up service because there are so many infections in Bangkok."
"These days, I just buy some medicine to lower my body's temperature and drink lemongrass and lemon juice," he said, noting that this was all that was available.
Pheakdey said that he now faces food shortages due to a loss of income and had not yet received any assistance from either the Thai or Cambodian authorities.
"I also asked for help from the Cambodian authorities in Thailand, but I have not seen the authorities come to help yet," he said.
Another Cambodian worker in Thailand, Kong Veasna, said he faces similar problems to Pheakdey, but he had had more luck with Cambodian authorities in Thailand who he spoke with earlier this week.
"The team contacted me back, but they said they would come in two or three days," he said.
Ministry of Labour and Vocational Training spokesman Heng Sour said that Cambodian workers can contact the Cambodian authorities in Thailand online.
"If they are in Bangkok or surrounding provinces, we have a consulting service for COVID-19 remotely. If they need medicine, they can ask for it. If they face a shortage of food, they can also ask for that too," he said.
He requested that all workers to stay in Thailand first and comply with the ban set by the authorities.
"It is difficult for us to help those who violate the travel ban set by the Thai government. Therefore, please do not move or travel to the border. If there is a shortage, please stay at home," he said.
Dy Thehoya, head of the migrant project at labor rights group CENTRAL, said that the support and assistance being provided by the Cambodian government is limited.
The Cambodian authorities must cooperate with the Thai authorities to visit places where Cambodian workers are staying in Thailand to hear details of their hardships in order to set up additional mechanisms of support, he added.
"If workers were asked to stay in Thailand, they must be provided with food, medical facilities and urge the Thai government to vaccinate those workers," he said.
So far, more than 15,000 Cambodian workers have contracted COVID-19 in Thailand, but an estimated 2 million Cambodian are believed to live and work in Thailand, mostly employed in the construction industry and other informal jobs.

Additional reporting by Phoung Vantha
Related Articles