Cambodia's beaches grapple with cigarette butts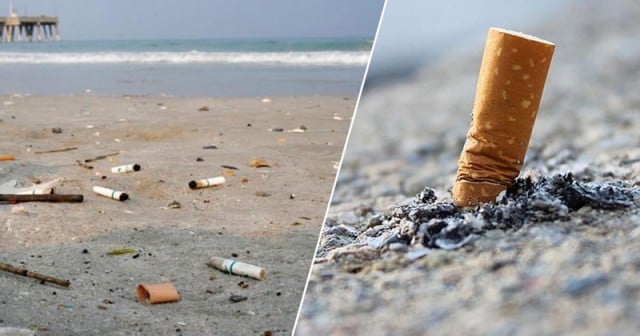 Ou Sokmean
August 4, 2019 8:22 AM
Increasing numbers of butts along beaches recently encouraged some young Cambodians to begin a campaign to collect them in coastal areas

PHNOM PENH-- Cambodia's coastal areas are being polluted as a result of a dramatic influx of foreign tourists and investment, especially from China, which has led to numerous condominiums, hotels and casinos being built.
Trash has reportedly been discarded along beaches and raw sewage poured into the Gulf of Thailand. However, cigarette butts have been mostly overlooked.
Increasing numbers of butts along beaches recently encouraged some young Cambodians to begin a campaign to collect them in coastal areas.
A member of Gabage Youth takes picture with bottles filled with cigarette butts in Preah Sihanouk province on Sunday, August 04 ( Photo: Garbage Youth)

San Dara Vit, leader of Garbage Youth, said his group had collected almost 20,000 cigarette butts over three weeks.
"We are concerned that they will cause problems with our beaches, people's health and marine life," he said.
"I think there are nearly 1 million of them out there to be collected. We will continue cleaning up our beaches until there are no more left."
According to the Washington-based Ocean Conservancy, butts are "the single most collected item on the world's beaches" with more than 60 million collected since 1986.
A study by Anglia Ruskin University in Cambridge in the UK has revealed that cigarette butts thrown on grass or soil may "stunt plant growth."

The study also found that while biodegradable, cigarette filters are "composed of thousands of cellulose acetate fibres and take years to disappear from the environment." The study's findings were mentioned in a statement by the university on July 19.
Sea Sophal, president of the NGO2 BambooShoot Foundation, agrees that discarded butts contained toxic chemicals.
"When flowing into the sea, decaying cigarette filters release chemicals which can be eaten by fish," Sear Sophal said, adding that this doesn't include other health problems caused by exposure to second-hand smoke.
Sea Sophal, environment activist and president of the NGO2 BambooShoot Foundation (Photo supplied)

Sihanoukville provincial spokesman Kheang Phearum acknowledged that butts could affect sand and water quality, expressing support for the youth campaign.
"We have already paid more attention to managing waste on the beaches. However, cigarette butts are tiny trash which can't be completely removed by our cleaners. That is why they remain," Kheang Phearum said. "We need more participation from everyone."
Dr Kong Mom, director of the Cambodia Movement for Health, said coastal areas "should be smoke-free as they are for people to relax, not places where people have to inhale toxic smoke.
"People who absorb cigarette smoke also have severe health problems like smokers. Even though tourists might be less affected as they don't regularly inhale this smoke, our people should not be victims."
According to the World Health Organization (WHO), smoking kills more than 8 million people each year with 7 million deaths caused by the direct consumption of tobacco and around 1.2 million by being exposed to second-hand smoke.
Sea Sophal, president of the NGO2 BambooShoot Foundation, said the law against smoking was not being imposed.
"Ochheuteal Beach and other beaches are places where people absorb fresh air. We already have a law. We should effectively implement it and create some regulations. Then we can also reduce the cigarette butts," Sea Sophal said.
When asked if Sihanoukville authorities would clamp down on people who smoke on beaches, Kheang Phearum said measures would need to be issued by ministries.
"It is not within Sihanoukville Province's authority. The Ministry of Health is responsible for preparing the smoking ban law and other regulations on smoking. Therefore, it requires the ministry to participate before we can take action," the spokesman said.
The spokesman suggested that a complete smoking ban would not be possible and that fines for smokers and smoke-free education would be more effective.
The Cambodian government issued a sub-decree on smoking in 2016 which aims to ban smoking at workplaces and public areas including restaurants, hotels and public transport.
Ministry of Tourism spokesman Top Sopheak said the fines had not yet been imposed against individuals but that the ministry wanted an end to smoking in coastal areas, especially in Sihanoukville.
"We recently discussed and prepared to issue a joint prakas between the health, economy and finance, tourism and interior ministries to impose fines against smokers in all public places," he said.
Top Sopheak added that the Ministry of Tourism was also considering plans to review and amend the National Tobacco Control Law of 2015. He said the ministry had also tried to encourage hotels and guest houses to create designated smoking areas.
Related Articles