Cambodia's Commerce Minister Pan Sorasak and US Ambassador Patrick Murphy Discuss Trade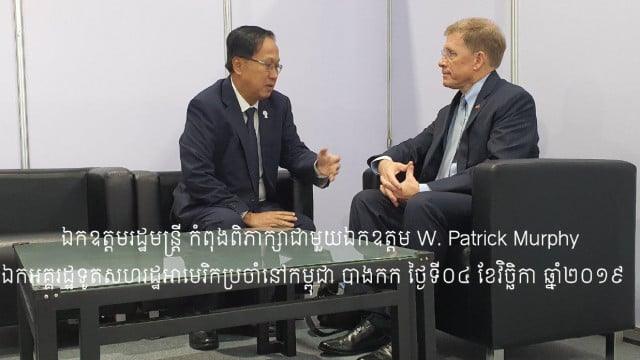 Phoung Vantha
November 5, 2019 8:32 AM
PHNOM PENH—Minister of Commerce Pan Sorasak Monday called upon U.S. business people to invest more in Cambodia.

Pan Sorasak said he met Monday with U.S. Ambassador to Cambodia Patrick Murphy on the sidelines of the 35th Asean Summit in Bangkok. After welcoming him to the region, Sorasak said he discussed having U.S. businesses more involved in the country.
"I urged American business people to invest more in Cambodia, participate in trade fairs and partner with [local] businesses to promote growth," he said on the ministry's Facebook page.
According to Sorasak, the U.S. ambassador said that he highly appreciated the cooperation between Cambodia and the U.S. and that he would work at promoting economic and trade relations between the two countries.
Cambodia's trade with the United States rose to $3.72 billion during the first eight months of 2019, which represented a 34.32 percent jump compared to the same time period last year, according to a WorldCity analysis of U.S. Census Bureau data.
The trade volume between Cambodia and the U.S. totaled $3.438 billion last year: Cambodia's exports to the U.S. amounted to $3.051 billion, and U.S. imports to the country $387 million.
Related Articles