Cambodia's Energy Strategy Condemned as Short-Sighted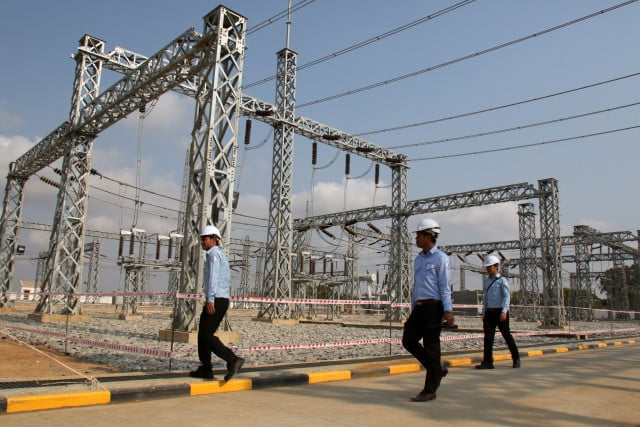 Sao Phal Niseiy
July 1, 2020 9:35 AM
With a new heavy fuel oil plant nearing completion in Kandal, experts warn of the need for sustainability and diversification in energy sources.

PHNOM PENH--As Cambodia is expected to finalize the construction of a 400-megawatt heavy fuel oil (HFO) power plant in Kandal province by the end of this year, concern is growing over the sustainability of the country's long-term energy plan.

"Over 90 percent of the construction has been completed and we have only been waiting for testing conducted by foreign technical experts," said Victor Jona, a spokesperson at the Ministry of Mines and Energy.

According to Jona, the project, which is located in Lvea Em district in Kandal province, consists of two heavy fuel oil generators, which were purchased from Germany and Finland. Each generator is thought to be capable of generating 200 megawatts, but due to disruption caused by the Coronavirus Disease 2019 (COVID-19) pandemic, technical experts from Germany and Finland have been unable to visit the plant to conduct testing.

Chinese firms CGGC-UN Power and China National Heavy Machinery Corporation (CHMC) are responsible for the construction of the power plant, having already sank $380 million into the investment project.

However, the spokesperson stressed that despite uncertainty, the generators will definitely be operational by the end of 2020 in response to the surge in demand for electricity.

Once completed, the grids that connect the plant in Lvea Em to Phnom Penh will also be erected in order to supply the capital city, which according to Ministry of Mines and Energy, consumes approximately 500 megawatts per year.

Based on a report from the ministry, Cambodia imported around 443 megawatts of energy over the course of 2018, with 277 megawatts coming from Vietnam, 135.5 megawatts imported from Thailand and a further 30 megawatts from Laos. Last year, the country signed an agreement to purchase up to 2,400 megawatts of electricity from Laos in four phases over a period of 30 years.

It is worth noting that Cambodia's electricity demand is projected to grow by an annual average of 9 percent between now and 2040, but in 2019 the country faced severe energy shortages that led to a wave of public backlash over the ensuing blackouts. The electricity shortage in 2019 was due the large reliance on hydropower, sources of which became victim of lower water levels during last year's dry season.

Many called for more sustainable sources of energy to be used in order to avoid the blackouts which plagued the nation. While authorities found additional sources of energy, the government sought out more long-term solutions by purchasing power generators from Finland and Germany.

Response to Ad-Hoc Electricity Demand

Cambodia has been depending on its mixed-energy strategy in its bid for energy security, but fossil fuels, coal and hydroelectric dams—which have accounted for the bulk of Cambodia's energy production—have proven too environmentally destructive and ultimately unsustainable for the long-term needs of the country.

Despite this, Senior Energy Economist at the Economic Research Institute for ASEAN and East Asia, Han Phoumin warned that Cambodia's current energy strategy is too focused on the short-term and does not give enough consideration to the long-term. The HFO generators, he said, highlights this problem.

"Cambodia's power generation is operating on an ad-hoc demand, and it will need to change such practices by looking into combinations of sustainable power generation," Phoumin said in an email interview, adding that Cambodia had already phased out the use of HFOs as it attempted to decrease its reliance on unsustainable energy sources.

"But now, we're back to HFOs again, why?" stressed Phoumin, pointing to the long-term impact of moving back to such an emission-heavy energy source. He estimates that it will mean Cambodia is stuck with HFO power—and the carbon emissions that follow—for decades.

"The 400 [megawatt] HFO generation is a big plant and it will remain in the national power mix for at least 20 years from now, which will in turn make it harder for Cambodia to decarbonize its emissions," Phoumin added.

More Fossil Fuel, More Health Hazards

When asked if the generators, which are heavily reliant on polluting fossil fuel, could cause any potential health hazards in the long run, Jona claimed that there would be no environmental cost.

"There is no problem with these 400-megawatt power stations. We don't install them near villages where people live, but on flooded paddy fields where we have filled in the land. So, there is no [negative] impact," Jona said.

From technical viewpoint, Phoumin said any coal or HFO fueled power station without environmental facilities will have grave implications for public health, suggesting that the stations should be located no less than 20 kilometers any human habitat to ensure public safety.

"The proximity of about 20 kilometers is harmful—it could bring about localized acid rain and the emissions present a risk to health, especially in the form of respiratory problems," he explained.

Although power plants are operated far away from cities, Phoumin pointed to China as an example, noting that Chinese coal-fired power plants are often shut down over winter due to the threat of winds sweeping pollution out over cities.

As fossil fuels pose health risks, Phoumin went on to suggest that in addition to investing in emerging renewable energy sources, Cambodia should also look into advanced sources of alternative energy for its long-term investment such as hydrogen fuels, which he said will offer a good fuel for energy transition.

"Most hydrogen is produced from fossil fuel. However, green hydrogen or renewable hydrogen can be produced through electrolyzer technology and the energy is clean," Phoumin said, adding that Cambodia will need to embrace it sooner rather than later.

*This article was modified to correct Cambodia's plan to lease Turkish powership. The plan ultimately was canceled.
Related Articles
December 15, 2020 8:14 AM