Cambodia's garment manufacturers' group urges landlords to slash rental fees to offset COVID-19 impact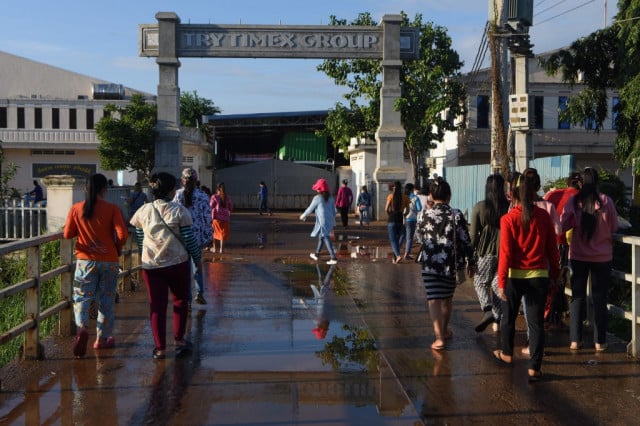 Xinhua
May 10, 2020 4:36 AM
PHNOM PENH-- The Garment Manufacturers Association in Cambodia (GMAC) on Friday urged landlords, who lease premises to garment, footwear and travel bag factories, to consider lowering their rental fees by at least 30 percent in order to help mitigate the impact of COVID-19.
GMAC said in a letter that the garment, footwear, and travel bag industry is one of the industries that has been hit hardest by the COVID-19 pandemic in Cambodia, and the suffering was expected to be exacerbated.
The letter said 180 factories have so far suspended their production while the other 60 factories will suspend their production, and the suspensions underscore the inability to cover the factory's costs as their incomes plummet.
"The factory's cost of building rental fees is a significant cost burden while our members are suffering from the cancellation of many orders and the absence of new orders, as well as other costs," it said.
"GMAC understands the impact of the COVID-19, but we do appeal to landlords who are renting buildings to garment, footwear, and travel bag factories to consider reducing their rental fees by at least 30 percent for 3 to 6 months," the letter said. "This reduction will help lower the financial burden of factories and contribute to the economic recovery in Cambodia to support the sector."
The garment, footwear, and travel bag industry is Cambodia's pillar export sector, employing about 750,000 people in approximately 1,100 factories and branches, according the Labor Ministry.
The sector made gross revenue of 9.32 billion U.S. dollars last year, up 11 percent compared to the year before.
The European Union and the United States are major market destinations for the kingdom's garment, foot wear and travel bag exports, but both have been severely affected by the global pandemic as their markets continue to close and residents are no longer spending money.
Cambodian Labor Ministry spokesman Heng Sour said last week that for the second quarter of this year, garment, footwear and travel bag exports will expect to see a 50 to 60-percent decline from last year.
"Cambodia has yet to receive any orders from buyers for both May and June, as well as for the foreseeable future. We can conclude that exports of garments and footwear will be hit hard in the second quarter this year," he said.
The Southeast Asian country has so far recorded a total of 122 confirmed cases of COVID-19, with 120 patients cured, according to the Ministry of Health.
Related Articles