Cambodia's Health Authorities Urge More Vigilance as 845 New COVID-19 Cases Are Detected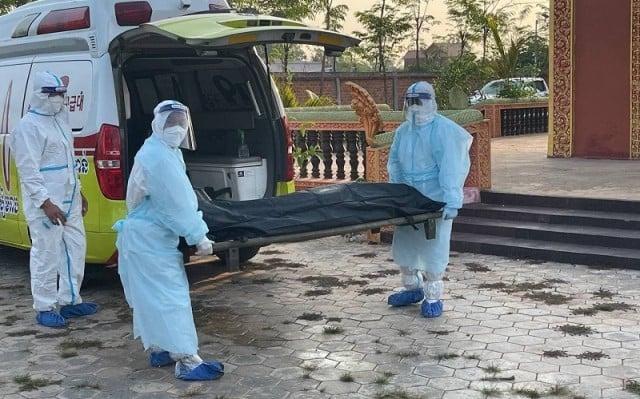 While the vaccination campaign continues in the country, the government comes to the aid of Vietnam facing an increase in coronavirus cases
PHNOM PENH--Cambodia's health authorities on July 18 announced that 845 new COVID-19 cases had been identified and 30 deaths recorded, stressing that relaxing basic measures could enable the spread of coronavirus strains.
According to the Ministry of Health's press statement, the latest infections have brought the total number of cases to 67,181 nationwide with 58,930 recoveries and 1,106 deaths. In the meantime, 975 patients have fully recuperated and been discharged from hospital.
On July 17, Health Ministry's spokesperson Or Vandine repeatedly warned that any reckless behavior among the general public would risk allowing the spread of the more contagious COVID-19 variant B.1.617-2—known as Delta variant—in the community, which would overwhelm the healthcare system and raise the death toll.
"Can we all imagine if Alpha and Delta variants [were] joining mutation," she wrote on her official Twitter account. "The severity of transmission may be worse than now. So, do not let these two strains [spread] in our community by acting responsibly together now, please!"
Vandine's cautionary message came as the country on July 16 reported that 37 new cases of the Delta strain were detected between July 7 and July 14. The cases involved 34 Cambodians returning from Thailand and three Indonesian nationals arriving on international flights.
In the meantime, the vaccination campaign continues, Vandine said.
As of July 16, a total of 5,767,616 persons had received the first dose of the 2-dose vaccines while 4,109,4976 persons had received both doses.

On July 17, Vandine said that, over the next two days, the health authorities would have vaccinated 6 million people throughout the country, that is, 60 percent of the initial 10 million target.
"With this achievement, awakening individuals and families' joint action to suppress virus transmission is now a must to prevent the large-scale community transmission if we do not want to see tragedy in health and economics," Vandine wrote on her Twitter account.
Cambodia donates medical supplies to Vietnam to help boost the fight against COVID-19
In solidarity and to strengthen cooperation to prevent the spread of the coronavirus, the Cambodian government has provided medical supplies to neighboring Vietnam.
According to the government's Agence Kampuchea Presse, the donation package includes 1 million facemasks, 100,000 N95 masks, 100 medical oxygen concentrators and $200,000.
In addition, the Cambodian Red Cross and the Cambodia-Vietnam Friendship Association are contributing $100,00 and $50,000 respectively to the Vietnamese government.
Vietnam has been hit by a new wave of COVID-19 infection, and Ho Chi Minh City has become a coronavirus hotspot. According to the VN Express International, as of July 18, the total number of cases stood at 47,343 in the country.
Related Articles