Cambodia's Imports from Vietnam Increase while its Exports to that Country Go Down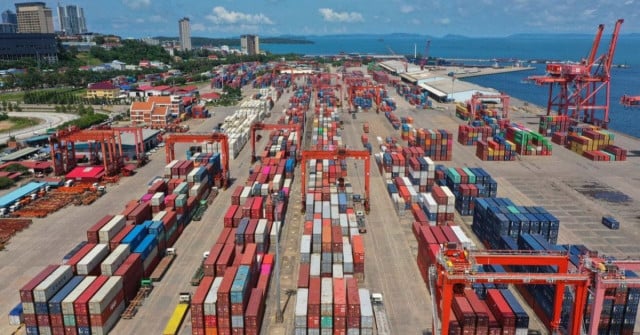 Factors range from floodings that affected crops in 2020 and 2021 to Cambodia not producing sufficiently to meet its own demand, an expert says

PHNOM PENH--Bilateral trade between Cambodia and Vietnam reached $2.8 billion in the first five months of 2022. This represented an increase of 20.3 percent compared to the same period in 2021 during which trade amounted to $2.3 billion. However, this has been due to Vietnamese imports to the country soaring while Cambodia's exports only slightly went up.
In the first five months of 2022, Cambodia exported only $1.07 billion worth of goods to Vietnam, amounting to a 3.4 percent increase compared to $1.04 billion during the same period in 2021, according to the trade statistics from the General Department of Customs and Excise of Cambodia.
Meanwhile, imports from Vietnam to Cambodia went up to more than $1.71 billion, an increase of about 34 percent compared to $1.27 billion during the same period in 2021. Kun Nhim, director-general of the General Department of Customs and Excise, could not be reached for comments regarding the department's data.
The goods that Cambodia imported from Vietnam included steel, vegetables, fruits, fertilizers, and other consumables while the goods that Cambodia exported to Vietnam were mostly agricultural goods such as rice, cashew nuts, rubber and sugar.
Hong Vannak, an economic researcher at the Royal Academy of Cambodia, said that Cambodia's exports to Vietnam being less than Vietnam's export to Cambodia was due to the fact that Cambodia mostly exports agricultural products to Vietnam while Vietnam exports agricultural as well as consumable products to Cambodia.
During the previous growing season, crops in the northeast of the country were destroyed by floods in late 2020 and early 2021, leading to a shortage of agricultural products, he said. The lack of raw materials to produce goods was as well the cause of the decrease in Cambodia's exports to Vietnam. Cambodia having lower production compared to Vietnam led to exports to Vietnam being less than Vietnam's exports to Cambodia, Vannak said.
He went on to say that, in the context of the bilateral trade agreements among countries in ASEAN and the Regional Comprehensive Economic Partnership signed by the Asia-Pacific nations in 2020, Cambodia cannot ban exports from Vietnam.
Moreover, this is about supply and demand: As long as there is a demand in Cambodia for goods produced in Vietnam, that country will export them to Cambodia, Vannak said. Thus, to solve this problem, Cambodia needs to produce more goods/products for domestic use, so that the demand for Vietnamese products will decrease, he said.
"This is how international trade works, and this is how we can solve this problem," Vannak said. "There is always competition when it comes to international trade. Therefore, Vietnam is always trying to increase its productivity for exports, but so is Cambodia."
If Cambodia increases its demand for Vietnamese goods, Vietnam will get the advantage, he said. In contrast, if Vietnam increases its demand for goods from Cambodia, Vietnam will get more supplies from Cambodia. And this will lead to a balance in international trade between the two countries, he said. "As long as we have good cooperation with each other and think of both parties' benefits, bilateral trade will become essential because we are neighboring countries and have had a good relationship with each other.
"Building peace, development, and trade across borders are very important to make the two countries stronger, mutually beneficial to each other as well as valuable to the ASEAN region," Vannak said.
According to the trade statistics of Cambodia with major countries for the first five months of 2022 issued by the General Department of Customs and Excise, Vietnam became in 2022 the second-largest bilateral trade partner of Cambodia in both exports and imports.
The Trade Volume Might Not Meet Expectation.
On April 22, 2022, Sok Sopheak, secretary of state for the Ministry of Commerce, and Tran Quoc Khanh, deputy minister of the Ministry of Industry and Trade of Vietnam, agreed to boost the bilateral trade volume to $10 billion by the end of 2022.
In fact, the Cambodia-Vietnam trade volume started increasing in 2020 and 2021, well before the pandemic, Hong Vannak said.
Because of the long-time relationship between the two countries, Cambodia considers Vietnam as one of its major countries for trade and vice versa while this benefits both countries, he said.
"Historically speaking, Vietnam...achieved peace within the country before Cambodia did, and its labor force was good for a large market," Vannak said. "So Vietnam had the opportunity to improve its productivity more than Cambodia did, which allows Vietnam to even export more goods to Cambodia."
However, Vannak said, several factors could prevent the trade volume from growing to meet expectations and reach $10 billion by the end of the year.
"First, the COVID-19 pandemic is yet to be completely over," he said. "Second, the rise in gas and oil prices has affected a lot of countries, including Cambodia and Vietnam. The cause for the rise in oil prices is because the Organization of the Petroleum Exporting Countries (OPEC) cannot produce sufficient oil to meet the demands."
Moreover, Vannak said, the war between Russia and Ukraine is also a factor. Because of the economic sanctions that Western countries such as the United States as well as the European Union have put on Russia, some countries that are members of OPEC have also been affected by the sanctions.
That, Vannak continued, affects Foreign Direct Investment (FDI). The decline in FDI will lead to a decrease in imports and exports of goods as the rise in prices for raw materials, products and oil has affected international trade, causing the trade volume to go down.
On June 24, Cambodia and Vietnam celebrated the 55th anniversary of the establishment of diplomatic relations between the two countries. On this occasion, Prime Minister Hun Sen said he hoped that the bilateral relationship and cooperation between Vietnam and Cambodia will continue to deepen and help maintain peace, stability and development in the ASEAN community and the world.
Related Articles
November 30, 2019 2:31 AM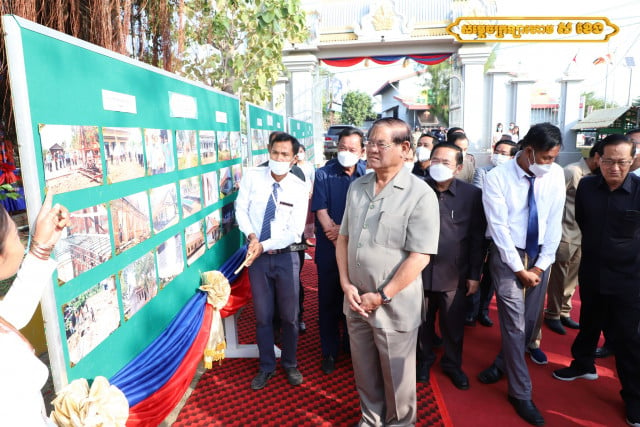 December 15, 2022 5:25 PM