Cambodia's Military Chief Makes a Historic Visit to Myanmar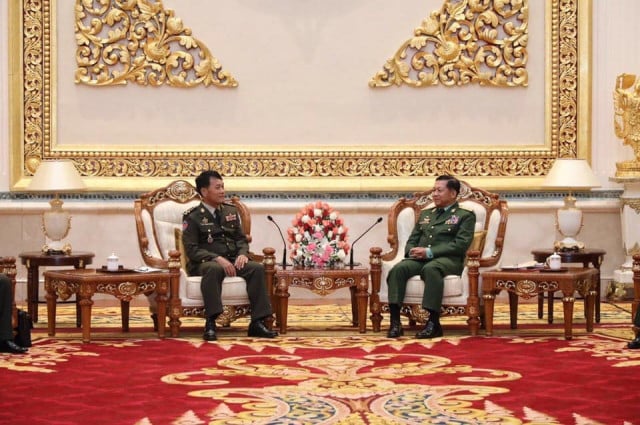 Torn Chanritheara
January 16, 2020 4:42 AM
Phnom Penh – General Vong Pisen, commander-in-chief of the Royal Cambodian Armed Forces (RCAF), arrived in Myanmar Tuesday, becoming the first Cambodian high-ranking military official to visit Myanmar since the two countries established diplomatic relations 65 years ago.

Pisen was welcomed by his Myanmar counterpart Senior General Min Aung Hlaing during a ceremony that took place in Naypidaw, Myanmar's capital.
According to a statement released Wednesday by Cambodia's Ministry of National Defense, Pisen told his Myanmar counterpart that the goal of his visit on the year marking the 65th anniversary of diplomatic relations between the two countries was to foster bilateral cooperation as well as strengthening military relations.
"General Pisen called for good relations between the two militaries including exchange of security information; joint effort to combat transboundary crime, terrorism, and human, drugs and arms trafficking; and ongoing human resources training," the statement read.
Calling the visit a historic moment, Senior General Min Aung Hlaing agreed with Pisen on strengthening cooperation between the two countries' military forces, the statement said.
During his stay, Pisen paid a courtesy call on Aung San Suu Kyi, Myanmar state counsellor, and renewed the Cambodian government's invitation to her to attend the Asia-Europe Meeting (ASEM) Summit that will be hosted by Cambodia later this year.
Suu Kyi, who is considered the de facto leader of Myanmar, accepted the invitation, according to the ministry's statement.
Related Articles