Cambodia's Miss Earth 2020 Candidate Calls for Environmental Protection and Feminism in Cambodia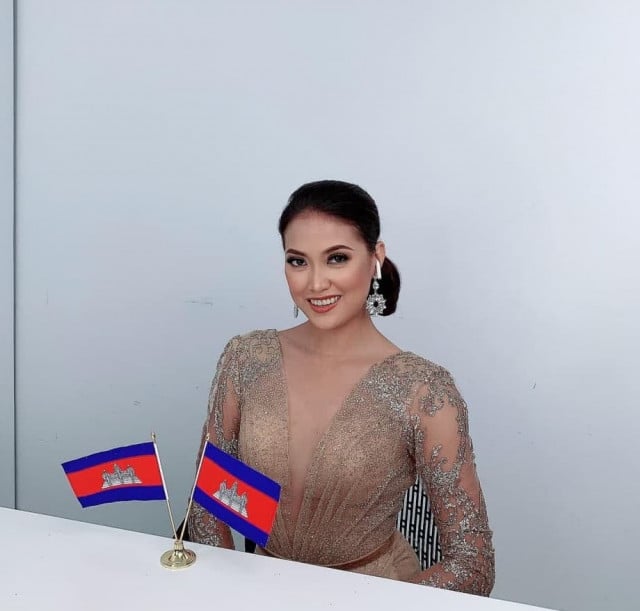 Heng Nisay has just completed an exchange program for her senior year in the US. Currently she is attending a virtual competition called "Miss Earth 2020" as a Cambodian delegate. Nisay sat down with Cambodianess to discuss the journey as a Miss Earth 2020 as she holds a bachelor's degree in International Relations.
Heat Vanna: What inspired you the most to take part in Miss Earth 2020 and how you plan to use the platfom?
Heng Nisay: What inspired me most is the opportunity to represent my country in this international pageant. I know that I am a young woman full of potential, and I want to be able to use it to serve Cambodia's society in any ways I possibly can.
Being in a pageant is time-consuming and takes a lot of sacrifices. Now that I have the time to represent Cambodia in Miss Earth 2020, I want to use it as a platform to promote sustainable development in youth education because I understand that Cambodia is a developing country and that comes with the exploitation of the environment. However, development is inevitable but helping our people to become more aware of preserving the environment is crucial in maintaining the world as a healthy place for the next generation. But the environment is a global issue, so with this, not only can I spread awareness to Cambodia but also to all the countries around the world.
Heat Vanna: As a Cambodian representative in Miss Earth 2020, would you let us know what this means to you?
Heng Nisay: I think being Miss Earth is being an advocate for environmental awareness. You do not need to be a scientist or an environmentalist to care about the environment. You can have the ambition to spread awareness about environmental causes regardless of your profession. Being a delegate of Miss Earth 2020 is being a woman of the earth, a role model, an advocate, and an influencer to protecting nature.
Heat Vanna: During the contest's EarthTalk, you won the gold medal in the topics "Science to Nature: Its Benefit to The Environment" and "The Importance of Agriculture in European Countries during the Pandemic." People say your personal education had played its part in this success, what do you think?
Heng Nisay: I think education plays a major role in making us who we are, the way we think and view the world. Education is not just what we learn from the books, but also from our own research, experience, and environment. More than knowledge, I think education teaches us discipline, which is an essential component to help us be a better version of ourselves. If our people are well disciplined, we would have an orderly society.
This is why I stand by education. I believe that developing human resources is the key to all aspects of development. I am also grateful to have the opportunity to receive a good education since I was young. I have my parents to thank for that. As Miss Earth Cambodia 2020, I advocate for youth education in sustainable development because educating our youths is giving hope to our future.


Heat Vanna: Apart from that, you have just completed an exchange program for your senior year majoring in International Relations in the US with a good result. Could you share with us your experiences with this exchange program as a foreign student?
Heng Nisay: The US has always been a country on my bucket list and being able to go there was a dream come true. I am truly grateful to have experienced education in the US. Being a foreign student was a bit challenging in the beginning because I had to adjust to the system, but I overcame the challenge. I met so many amazing people and made so many friends over there. I was a straight-A student for the entire academic year in the US. I am really proud of that because it is an achievement made based on my hard work and many restless nights. I have traveled to many countries and received education overseas since I was young, but getting to experience college in the US was truly an amazing experience.
Heat Vanna: With a degree in International Relations, what are you going to do in the near future? Have you planned to get a higher education?
Heng Nisay: Honestly, my next step in education is to pursue a master's degree. It is a new challenge that I set for myself and I am willing to put in the work. As for my career, I have always wanted to work for an embassy or international organizations such as the UN or World Trade Organization.
I also have a sense of entrepreneurship, which will need to be put to practice soon. I do not know what the future may hold, but I will keep doing what I am doing and have faith. I believe that if you want something bad enough you will make it happen. I believe in myself that I hold the potential to influence and make a difference. I may not have all the answers right now, but being a part of Miss Earth 2020 is already a foot in the door for me because I can use this platform to promote my advocacy to serve society while telling the world I am a young woman representing Cambodia.


Heat Vanna: Last but certainly not least, you may have inspired many young females to become like you. Therefore, what message do you have for them?
Heng Nisay: I am not afraid to dream big because I learn that a dream does not cost you a penny. The thing that can cost you a lot is when you do not have any dreams. Each and every one of you is unique and has the power to accomplish different things. You do not need to compare yourself to others but rather support and learn from each other. Keep working hard to chase your dreams, break that ugly stereotype and misconception about women's role in Cambodian society.
To my young girls, you are our future. You may not realize this right now, but all of you are about to become our leaders, doctors, engineers, teachers, artists, entrepreneurs, and more. The education you are going through is going to be challenging, but you will get through it. And remember, nothing great comes easy.
To my fellow young ladies, wherever you are in life right now, remember that you still have a long way to go. Do not give up on your dreams. This is only the beginning. Be kind to one another. Enjoy your youth because nothing in this world can buy time but be smart about it. If you play hard you have to work hard.
My senior sisters, it is never too late for anything. You can also take up a new hobby, learn new skills, or finish that degree. If you are not happy in one place for whatever reason, find a place for your well-being and happiness. Do not let your age be the reason to stop you from being happy or achieve your dreams.
To all the gentlemen, you are our partners. We need each other to form a beautiful society. Having you supporting and uplifting the strength of my sisters is extremely important. Do not perceive us as a being that has less physical strength, but rather a being with intellectual competence full of love and compassion.
Related Articles