Cambodia's Path to Electric Vehicles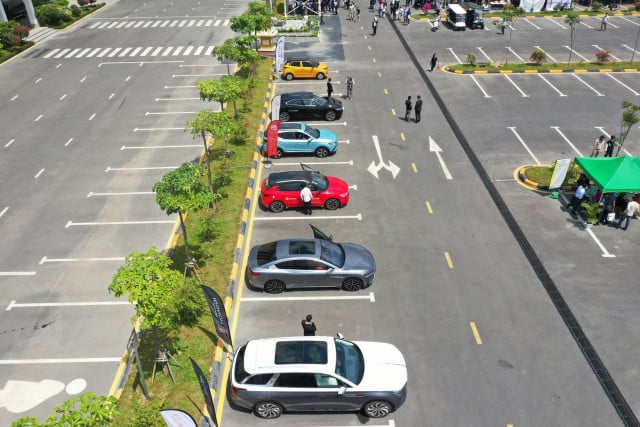 Infrastructure and acceptance pose challenges
PHNOM PENH – About 10 months ago, Lo Parinha decided to switch to using an electric vehicle (EV) after he tried one belonging to a friend.
What surprised him were the many differences from a gasoline vehicle and that EVs offered more benefits than he initially thought.
"Before, just like many other people, I didn't think that there were a lot of differences between gasoline cars and electric cars," said Parinha, who works at a private company in Phnom Penh.
"I thought the difference was just about gasoline and electricity.
"But after I tried it, I was amazed and found out there are a lot of positive things and distinctions."
In addition to the main advantages of zero emissions, EVs are more convenient with almost no noise while accelerating.
However, Parinha spoke of challenges that continue to hinder other people from considering EVs. These range from a lack of infrastructure to incentive policies aimed at encouraging people to switch to EVs and the need for more investment in the sector.
"It is more difficult for people who use EVs here to travel far away as we don't have many charging stations," he said.
"And accessories and spare parts for them are also expensive or hard to find as the EVs have not been popular yet."

The effort to roll out EVs is a new phenomenon as the world races to reduce greenhouse gas emissions from the transport sector to help tackle the climate crisis. That is why it is not so popular in developing countries like Cambodia where many people are accustomed to driving vehicles run by fuel or gasoline.
However, a report on registered EVs by the Ministry of Public Works and Transport shows that the number of EVs in Cambodia has soared from two in 2020 to 62 in 2021. In three months of 2022, 47 were registered, up 671 percent on the year earlier.
Moreover, more work has been done to pave the way for the future integration of EVs in the country, starting with the launch of charging stations.
Good start with the launch of charging stations
To promote EVs use, the transport ministry launched fast-charging stations in Phnom Penh last week in collaboration with its development partners.
During the event, Transport Minister Sun Chanthol said that in the initial phase, there are four charging stations sponsored by the United Nations Development Programme and 10 other stations will be funded by private companies.
"The ministry also has been in talks with some private companies interested in investing in EVs charging stations," Chanthol said.
In the meantime, the ministry has been working on a policy and strategy to ensure that by 2050, 40 percent of cars and 70 percent of motorcycles in Cambodia will be electric. This is in line with targets set in the Long-term Strategy for Carbon Neutrality 2050.
Han Phoumin, senior energy economist at the Economic Research Institute for ASEAN and East Asia, said the government's move reflected the effort to achieve carbon neutrality and net zero-emission, especially from the transport sector.
Given the city is so congested, Phoumin said EVs would help clean the air and contribute a lot to public health.
"Cambodia is in a good position if they can promote EV on a large scale, replacing internal combustion engines gradually towards 2050 or 2070," Phoumin said. The launch of charging stations was a very good start.
However, consumer confidence and trust in EVs were needed so that they know whether these products are reliable and convenient. In addition, such a move will need infrastructure such as enough charging stations in public as well as at home, he added.
Chou Kosal, electric vehicle researcher at the Institute of Technology of Cambodia, said the launch of the first charging stations was a timely solution to enable people's adoption of EVs.
Citing Minister Chanthol, Kosal said the adoption of EV is a chicken and egg problem.
"People will drive EV if there is enough infrastructure but the infrastructure can be installed profitably as long as there are enough EV customers," he said.
Long-term strategy to promote EVs is expected by September
Using EVs on a large scale will require more specific supportive policies, particularly to develop infrastructure and embolden more active engagement from other stakeholders, especially from the private sector.
Cambodia so far has no EV policies. The lack of regulations is seen to be holding back uptake.
"As the world is moving fast to EVs, we need to catch up. In this way, the government has done rightly by introducing charging stations. But that is not enough," Phoumin said.
According to him, Cambodia needs policies to promote the use of EVs, and the government needs to have aggressive investments in EV infrastructure development such as building smart charging stations.
"The best way to start is by unveiling public electric buses and moving to private EVs. Some countries are able to do this with trucks as well," the energy economist suggested.
"They need to sit down and prepare the real plan of how to make all these workable in the next, for example, 10 or 20 years. Otherwise, it remains a demonstration project. It will never be taken to the next level."
Alissar Chaker, UNDP Cambodia's resident representative, said the UNDP had been working closely with the transport ministry to develop the EV infrastructure roadmap which was expected to be ready by September.
"The roadmap will identify strategic locations for establishing charging stations, potential financing needs and its sources, setting priorities for the infrastructure development based on the potential growth of EV market in the country," Chaker said.
Advice and recommendations had been given to the government about the work needed to accelerate the adoption of supportive policies and regulations promoting EVs, particularly the safety and quality standards and licensing procedures.
"The key element is, nonetheless, creating financial incentives, such as taxes and subsidies and non-financial incentives special lane access, road toll fee waivers, and licensing incentives for private sector investors and potential clients to expand the market of EVs, infrastructure and services in the Kingdom," Charker said.
Investment in charging infrastructure is much needed
While noting the significant support of the government to reduce import tax for EVs which has made EVs much cheaper than internal combusting vehicles, Kosal said Cambodia needed to give assurances on private investment in infrastructure development.
The import tax of EVs has been reduced to 60 percent while the tax for ICE vehicles is around 120 percent. For EVs manufactured in countries that have a free trade agreement with Cambodia, the import duty is even lower at around 30 percent.
"An independent study conducted by the Energy technology and Management Research Unit of Institute of Technology of Cambodia shows that a significant cost of installation of EV charging station is the connection between stations to the national grid," Kosal said.
To encourage private sector to install EV charging infrastructure, the researcher said the government can consider applying the same support it gave farmers by charging less for electricity for pumping water at night.
"This policy is can be applied on electrified transportation sectors for the advantage of reducing operating cost and at the same time, the government can increase profits from selling excess generated electricity at night," he said, adding that electricity in Cambodia is mostly overproduced during the night of the raining season.
More knowledge on EVs critical for transition
For users like Parinha, more tax incentives, as well as EV infrastructure, are critical, but what is also needed is knowledge and understanding of EVs.
"I could see most of us don't know much about EVs, especially their advantages for the environment and convenience. Just like myself, I could realize it when I tried it," he said. It was important to help people learn more so that they can decide to switch to EVs.
"When people don't know much about EVs, they certainly have had many concerns. They are anxious about many things including quality, adequacy of spare parts and where to get them repaired," Parinha said.
It was common sense as expensive things like cars are not something that people are willing to change often like phones.
Charker agreed that behavioral change can be driven by reducing anxiety people have held when it comes to using EVs. That can be achieved if people are given more chances to experience and drive EVs.
"Awareness-raising events such as the EVs Showcase co-organized by Transport Ministry and UNDP on 26 March 2022 are important for information and for addressing public concerns relating to the driving range per charge," she said.
"It is also an opportunity to drive and experience EVs. The availability of charging infrastructure outside main cities would increase drivers' confidence and reduce 'range anxiety', that is, the fear of running out of battery charge."
Rising demand for accelerating energy transition to cleaner sources
The transportation sector the third-largest source of Cambodia's CO2 emissions, accounting for 5.7 million tonnes in 2018, according to the report by Climate Analysis Indicators Tool. The amount of CO2 emissions from this sector reached 6 million tonnes in 2020, according to World Atlas.
Therefore, supporting the use of EVs is critical in reducing emissions from the transport sector and buttressing the determination to achieve climate targets.
However, Cambodia still continues to rely largely on dirty energy sources like fossil fuel and coal power for electricity generation, prompting a concern that the unveiling of EVs won't lead to a substantial reduction in greenhouse gases without transiting away for these sources.
According to the Ministry of Mines and Energy's power development report in 2021, over 51 percent of Cambodia's domestic electricity production is from renewable sources. However, solar and biomass account only for seven percent of total renewable sources.
But Phoumin said regardless of the source of electricity, it is still beneficial for Cambodia to have EVs as they will help cities in Cambodia to have cleaner air.

In the meantime, he recommended that Cambodia accelerate the process of energy transition to clean energy as quickly as it can to cut the country's emissions significantly.
"EVs can contribute to emission reduction if the power plant source is producing clean energy. In this case, Cambodia will need to increase new additional capacity with clean energy sources such as solar PV, wind, biomass and hydropower. In this way, it is very meaningful to accelerate the EV use," he said.
UNDP's Charker noted that power grids with grid emission factor below 0.8 tCO2/MWh provide significant advantage to EVs compared to conventional vehicles, citing a study from the International Council for Clean Transportation in July 2021 which confirmed that electric cars are still cleaner than ICE vehicles over their lifecycles.
"Switching to EVs in Cambodia would help to reduce greenhouse gas emissions as grid emission factor is around 0.5 tCO2/MWh," she explained, adding that Cambodia has been trying to conclude its Power Development Plan 2021-2040 which further reduces its grid emission factor.
"This will also have a bearing on EVs and on the reduction of the country's overall greenhouse gas emissions from the transport sector."
To support reducing dependency on dirty energy sources, Kosal and other researchers in his team at ETM, have been designing and testing the prototype of the solar EV charging stations.
"Taking into account the fact that over 50 percent of electricity production is from renewable sources, our research objective is aiming at reducing the dependency of charging EV with dirty energy source to 10% or less," he said, adding that the proposed technology can also be scaled up to apply to public and office buildings to provide a clean and affordable energy source to the employees while more profits can also be generated.
Related Articles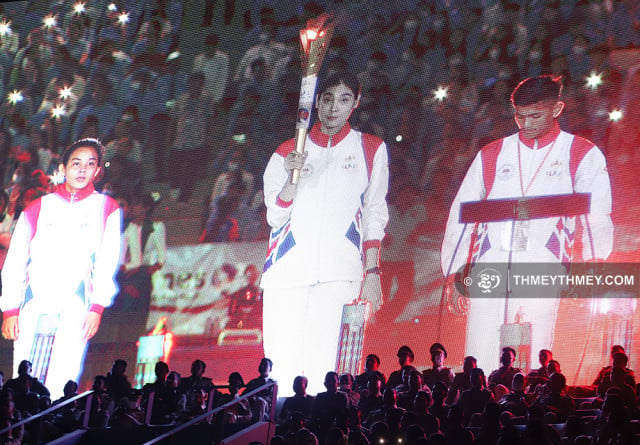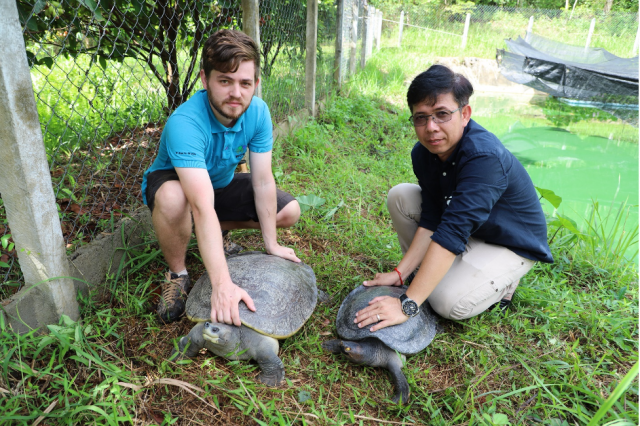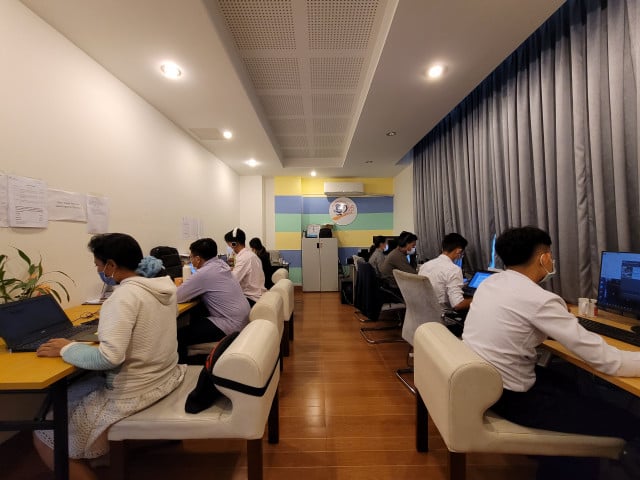 November 22, 2021 5:01 PM