Cambodia's Peacock Population Increases as Numbers Fall Globally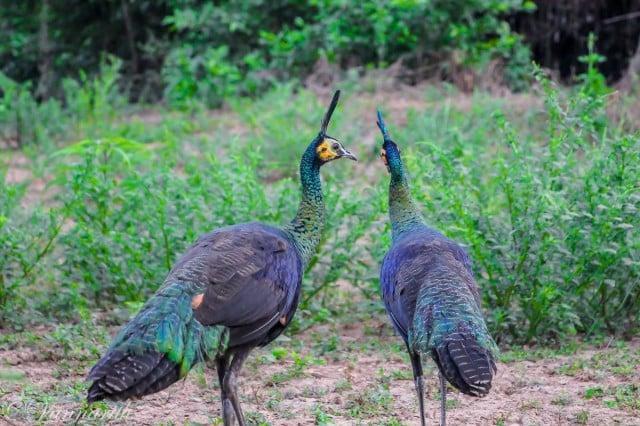 Found in protected areas around the country, Cambodia is now believed to have one of the largest peacock populations in Asia, according to the Ministry of Environment
PHNOM PENH--The green peacock population of Cambodia has increased by between 2,000 and 3,000 while its global presence has declined, said Ministry of Environment Spokesperson Neth Pheaktra.
Pheaktra said the increase in the number of peacocks in Cambodia was due to the active participation of communities, partner organization and rangers in the protection and conservation of natural resources as well as wildlife in wildlife sanctuaries.
There are up to 966 peacocks sheltering in the Keo Seima Wildlife Sanctuary, which stretches nearly 3,000 square kilometers across Mondulkiri and Kratie provinces. Another 570 peacocks reside in Siem Pang Sanctuary, Steung Treng Province.
In addition, Sre Pok Wildlife Sanctuary and Phnom Prech Wildlife Sanctuary in Mondulkiri Province and Virachey Nation Part in Ratanakkiri Province are also home to yet more peacock.
Between 50 and 100 more peacocks—incredibly rare and increasingly vulnerable birds—are sheltered in the Cardamom Mountains, much of which are part of protected areas, Pheaktra added.
"This demonstrates that the implementation of the projects focusing on preserving the wildlife biodiversity and ecosystem in the protected areas has the positive effects," he said.
The world recorded up to 20,000 adult peacocks and now Cambodia is estimated to have the highest number of green peacocks, while China, Vietnam, Thailand, Laos PDR and Indonesia have less then 1,000 peacocks in each country, according to Pheaktra.
The Ministry of Environment called on people to participate in conservation work, stop consuming the meat of rare animals and promote awareness in communities.
"People who still continue to trap and hunt rare animals must be punished," he warned.



Additional reporting by Teng Yalirozy
Related Articles