Cambodia's PM, U.S. Ambassador discuss strengthening bilateral ties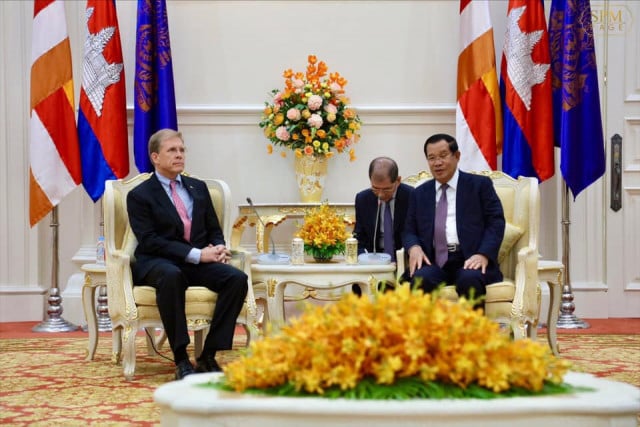 Torn Chanritheara
October 24, 2019 4:06 AM
Phnom Penh -- Prime Minister Hun Sen and new U.S. Ambassador W. Patrick Murphy discussed strengthening bilateral ties in their first meeting, which was held against the backdrop of the threat by U.S. lawmakers to impose sanctions on Cambodian officials.

Hun Sen met Murphy at Peace Palace on Wednesday. Murphy presented his credential letter to King Norodom Sihamoni last week.
In a statement, the U.S. Embassy said Murphy mentioned the long-standing U.S. support for the Cambodian people, and a prosperous, democratic, and sovereign Cambodia.
"Murphy also expressed his hope that steps can be taken in the coming weeks and months to strengthen this important relationship between our two countries and peoples," it said.
In his Facebook post, Hun Sen said relation and cooperation between the two countries should be further enhanced.
"Cooperation between Cambodia and the U.S. covers various areas, including education and health. These are important sectors which we should continue working on together," he said.
Next year the two countries will celebrate the 70th anniversary of the establishment of diplomatic ties. Hun Sen said that Cambodia and U.S. will work together to preparer activities for this occasion.
In July, the U.S. House of Representatives passed a bi-partisan resolution called the 'Cambodia Democracy Act,' which proposed a series of sanctions to be imposed on Cambodian government officials for undermining democracy and committing human rights violations.
Hun Sen has warned that the bill, if passed by the Senate and signed into law by the U.S. President, could impact ties between Cambodia and the U.S., the VOA reported.
Related Articles