Cambodia's Tallest Statue of the Buddha to Be Built on Top of a Mountain in 2023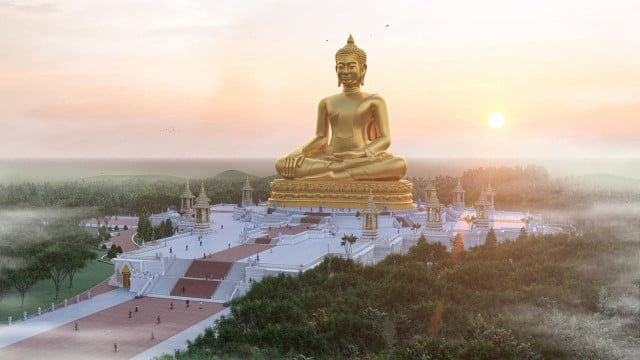 December 18, 2022 2:04 PM
PHNOM PENH — A statue of the Buddha that will stand 108 meters tall will soon be built on the edge of Bokor Mountain that overlooks an area of 500 or so rice fields. This will be the tallest statue of the Buddha in Cambodia.
Neth Pheaktra, the spokesperson for the Ministry of Environment, said that representatives of several ministries have been meeting to discuss the aesthetics of the statue and the technical issues that setting it at that location will raise, adding that the Sokha Hotel Group will handle the project.
The Ministry of Environment facilitated the discussions that involved the Ministry of Culture and Fine Arts;, the Ministry of Cults and Religions; the Ministry of Land Management, Urban Planning and Construction; the Ministry of Tourism; and the Cambodia Monk Committee, he said.
Following these meetings, the Cambodian government issued on Sept. 1, 2022, a document authorizing the construction project whose details will be handled by the company in charge, Pheaktra said.
The groundbreaking ceremony will take place in early 2023, he added.
"This is the pride of Cambodia, which is a country having constant adherence to Buddhism," Pheaktra said.
The statue will be designed in line with Cambodian styles and characteristics for such statues, he said, adding that this will transform Bokor Mountain into a religious tourist destination while at the same time promoting the respect of Buddhism in the country.
Related Articles
November 18, 2020 3:24 AM