Cambodia's Third COVID-19 Case to be Transferred to Phnom Penh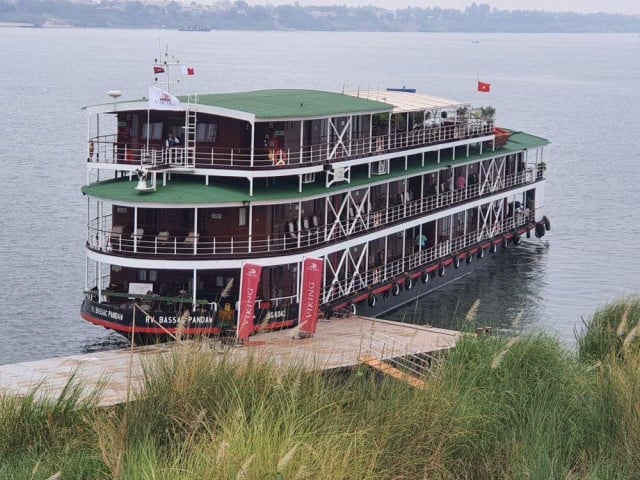 Authorities cite better facilities at Royal Phnom Penh Hospital as doctors prepare for the patient's arrival.

PHNOM PENH--A 65-year-old British woman who tested positive for COVID-19 in Kampong Cham province after disembarking the Viking Cruise Journey riverboat has been sent to a Phnom Penh hospital for treatment on Wednesday, according to Un Chanda, Kampong Cham's provincial governor.

Chanda said that the 65-year-old woman has been sent to Royal Phnom Penh Hospital at her own request, adding that the transfer of the patient has been conducted with coordination from the World Health Organization (WHO).

Speaking with Thmey Thmey on the condition of anonymity, a doctor from Royal Phnom Penh Hospital confirmed that the hospital had received a request from the US Center for Disease Control, the Cambodian Ministry of Health and the WHO to take the patient.

"So far the patient has no symptoms, beyond testing positive for COVID-19 according to the CDC frontline and the Ministry of Health," explained the doctor, adding that at press time the 65-year-old woman had not yet arrived in Phnom Penh.

"We're worried about the public perception, we hope we are not discriminated against for treating this patient – we have closed an entire floor of the hospital, the floor has a special negative pressure room and we have specially trained staff with specific procedural criteria to treat the patient," the doctor said, adding that the hospital will do its best to serve the patient, the Kingdom and the global efforts to contain the virus.

This comes after the Ministry of Health on Tuesday evening confirmed Cambodia's third case of COVID-19, with a 65-year-old British woman testing positive in Kampong Cham province. She is the only passenger from the Viking Cruise Journey to have disembarked, with the remaining 62 passengers and crew members awaiting test results from Institut Pasteur.

Results for those aboard the boat, which travelled from Ho Chi Minh City to Phnom Penh before voyaging to Kampong Cham city, are expected sometime Thursday morning.
Related Articles