Cambodia's "White Building" Among 2021 Venice Film Festival Lineup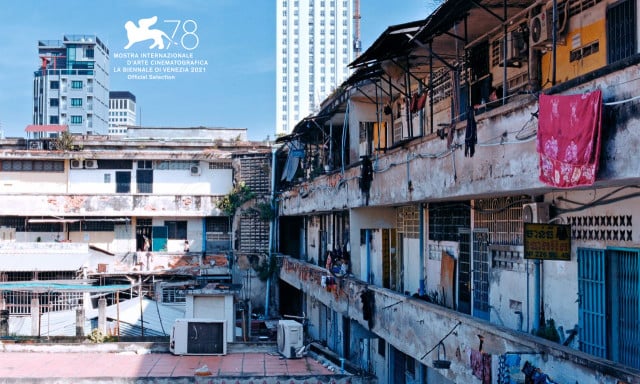 A fictitious retelling of the historic Phnom Penh building will screen at the Venice Film Festival this year showcasing the plight of White Building residents prior to its demolition in 2017
PHNOM PENH--The Cambodian fiction film entitled "White Building" has made its way to the Orizzonti competition of the 78th Venice Film Festival to be held from September 1 to 11, 2021.
The White Building, which was produced by Anti-Archive, is the first feature film from Cambodian director Kavich Neang.
It was produced as a fictitious film based on the real experiences of Kavich, who lived in the White Building, a landmark construction in Phnom Penh until it was demolished in 2017 for new developments by gambling giant NagaCorp.
According to a press statement, in the film, 20-year-old Samnang lives in the historic building in Phnom Penh. He and his two best friends practice their dance routines dreaming of television talent contests while their parents lead a more traditional lifestyle.
But as the White Building faces demolition, Samnang must deal with his best friends' departure from Cambodia while he observes his father unsuccessfully attempting to bring together his divided neighbors. Samnang finds that the stable environment he has always called home is on shaky ground.


"Phnom Penh seems to change every day, but our memories still remain. My family's 2017 eviction from the White Building, an historic apartment block, made way for new casino developments," Kavich said in the press statement, adding while his parents' generation, which suffered through Cambodia's troubled past, his generation now carries the traumas of the present.
He went on to say that, "Young people, like my film's protagonist, Samnang, dream of something better in the new Cambodia. Yet larger decisions are still out of their hands, and parents like Samnang's remain stubbornly tied to tradition. But this film allowed me to imagine again. The fiction frees Samnang from my own path. He wakes up from a long sleep. He recalls the past but charts his own future."
The iconic "White Building" actually was designed by Cambodian architect Lu Ban Hap and Russian-born architect Vladimir Bodiansky. It was inaugurated in 1963 as the "Municipal Apartments."
In 2017, the building, which housed around 492 families, was demolished in July 2017 after it was bought by Japanese real estate company Arakawa Co. However, in 2019, NagaWorld unveiled Naga 3 Project with $4 billion investment on the site.
The White Building's world sales are managed by Les Films du Losange. A release in Cambodian cinemas is expected in late 2021, according to the statement.
Related Articles