Campaigner Urges Fight Against Sexual Harassment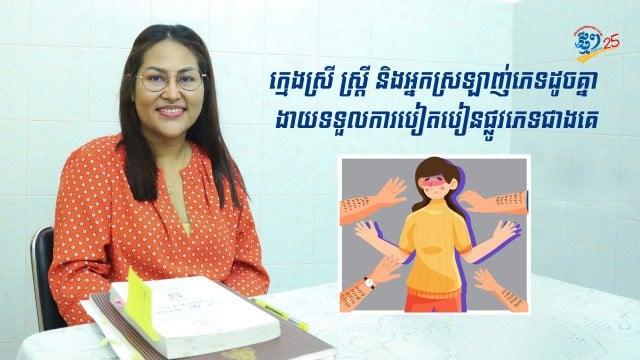 Girls, women, and LGBT community most at risk
PHNOM PENH--Girls, women and LGBT people are the most vulnerable to sexual harassment, often through words, gestures and on social media, says Bunn Rachana, executive director of the independent Klahaan organization which campaigns on issues that affect women in Cambodia.
Sexual harassment refers to any unwelcome action, speech or behavior that makes other people feel unsafe or offended emotionally or physically. It can be verbal, non-verbal or physical.
Rachana said sexual harassment can occur everywhere, including workplaces and particularly social media or digital spaces.
"It's not two different worlds, as we are still the same people regardless of what apps we are using," she said. "Therefore, our daily communication both on social media and in-person is the same.
"If the criticism or insult is made digitally to women based on their physical appearance in offensive ways, that is called sexual harassment on social media."
Everyone can be subjected to sexual harassment regardless of their sexual orientation, position in society or career. All people can be the victim of gender-based violence of which sexual harassment is one form.
However, in Cambodia, young girls, millennial women and gay women are more prone to sexual harassment or gender-based violence than men.
But it does not mean that men do not face such unwelcome behavior, she said.
Sexual harassment both on social media and in real life results in extremely negative impacts by causing them to lose their trust. Due to the feelings of insecurity it causes, they might end up losing opportunities they should get from participating in social activities.
"Emotional and psychological violence has negatively affected the life of citizens, especially girls and women. Although it does not leave scars on physical appearance, it can lead to depression or in the worst case – suicide," she said.
Governments at national and local levels had the major duty to implement protection against sexual harassment.
"First of all, I think there should be a law on preventing harassment in both public and private places, or amendment of articles which only focus on the context of workplaces and on higher position holders committing abuse of lower position staff," she said.
The context over which legal frameworks can cover sexual harassment is still narrow, and most cases are focused on harassment in public. Rachana believed the laws should guarantee full protection for citizens from harassment in all contexts as well as to ensure that the victims can protect and exercise their rights.
Despite the work that has been done so far, Rachana called for the government to continue educating, promoting and strengthening human resources within the government, including national and subnational levels, to accept lawsuits from citizens and to improve the ability of officials who receive the lawsuits files, as this is related to social norms.
"If the official responsible for the case does not take it seriously but keeps providing excuses that they are busy or the case is not a serious matter, the victim will not get their justice as their lawsuit is put aside," she said.
The government is not the only party that should be aware of the serious issues related to sexual harassment and its victims. Everyone should e informed about the matter.
"On top of that, promoting education on negative impacts of sexual harassment to the people living in villages also plays an important role in reducing sexual harassment cases," Rachana said.
She urged people and those working in the field of law to pay more attention to stop all forms of harassment that might happen to any individual, by avoiding normalizing sexual harassment and stop taking it lightly.
Citizens should speak out and not laugh when other people carelessly make jokes about sexual harassment.
And she encouraged people who have experienced sexual harassment not to blame themselves. They are the victims and should receive justice, not the blame.
The ones who should be ashamed are those who harass others, as not only did they violate the laws, they also violated moral principles, she said.
Established in July 2018, Klahaan is an independent non-governmental organization that addresses social issues affecting women by promoting, protecting and advocating for women's rights.
Related Articles