Cashew Farmers Face Double Squeeze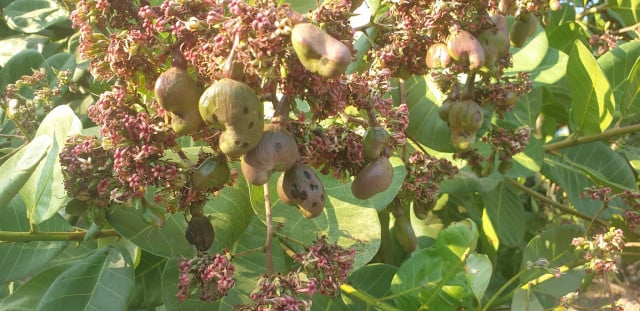 Costs soar while climate change hits yields
PHNOM PENH--Cashew farmers face declining profits as fertilizer and gasoline prices rise while yields decline due to the climate change.
Farmers say this year's harvest has been lower than last year because the dried flowers did not sprout and some of the pods were emaciated.
Nok Bunthorn, who grows three hectares of cashews in Sreung commune in Kampong Thom province, said the weather changed from hot to rainy over the past month, which affected many plantations.
Bunthron said cashew crops are almost entirely dependent on the weather. If the weather changes often, farmers face a loss. This year's yield is less than last year.
"The weather is hot and then changes to the rainy season too fast, making the cashews come out slowly and not very good" Bunthon said.
"The fruit withers and falls between 40 and 50 percent, so our yields decline accordingly. In previous years we had the same problem, but this year it was not just me. Almost all farmers are affected by the hot weather and unexpected rainfalls."
Rising gasoline and fertilizer prices had also become a huge burden for him and other farmers.
"In one season, we can harvest three tonnes, but this year I do not know how much we could get. It reduces our profits even more because of the high cost of fertilizers. Gasoline is another issue because we have to use it every day, so if the price goes up, then we hire workers to cut or weed. They also charge a lot," he said.
He uses at least 15 bags of fertilizer per year as well as other chemicals. Fertilizer prices have risen from more than 120,000 riel ($30) to nearly 200,000 riel ($50) per bag.
Uon Silot, Country Director of the Cashew Nut Association of Cambodia, said climate change has played a part in reducing cashew yields by 10 to 30 percent as fertilizer and gasoline prices have risen, meaning farmers risk losing profits.
"This year, farmers face three major problems," Silot said. "First, climate change has affected farmers of almost all crops such as cashews, cassava and rice.
"Second, the prices of fertilizers, chemicals and gasoline have increased, making it impossible for farmers to bear the cost of production.
"Third, the price of agricultural products is not stable, not only for cashews. Even with cassava and rice there are serious risks related to price fluctuations," Siloth said.
Mon Chantrea, president of the Stung Treng Cashew Nuts Association, said the yield in the province this year could decrease by almost 40 percent compared with last year.
The price of cashews had risen slightly to 6,000 riel ($1.5) per kilo for fresh seeds, but this might fall. Currently, some places have started to harvest but in others, cashews have just started to flower and sprout.
"When yields are lost, it will affect the costs of some farmers, because some growers usually use pesticides or fertilizers to take good care of their crops," he said. "So, they will face many challenges if prices fluctuate further, affecting their livelihoods."
Chhim Vantha, president of the Cashew Nuts Association in Preah Vihear province, said many cashew plantations are also facing a climate crisis. If the temperature was cold, the cashews would be affected, but if it was too hot, the cashews would dry out. He thought climate change would cut the average yield by 40 percent across the province.
The Agriculture Ministry says Cambodia has more than 250,000 hectares of cashew plantations, while the Cashew Nuts Association puts the figure at 500,000 hectares. In 2021, Cambodia exported more than 930,000 tonnes of cashew nuts, an increase of 328 percent from 2020.
In addition, Cambodia exports to China, Thailand, India, Japan, Korea, Netherlands, Bangladesh, Laos, Switzerland, Tonga, Philippines, France and the United Arab Emirates.
Related Articles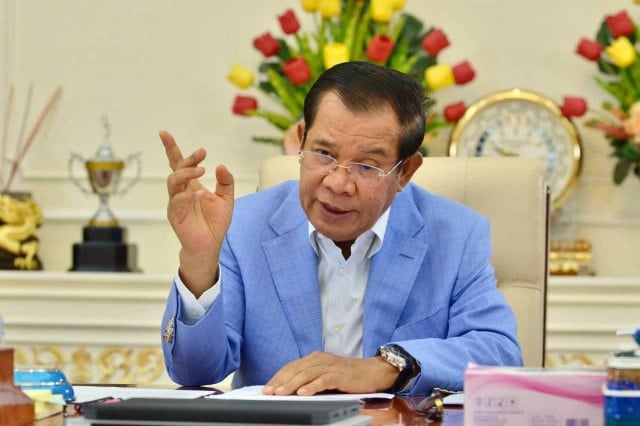 September 16, 2021 11:25 AM