CAST Launches Third Campaign to Raise Consumer Awareness of Farm-Raised Fish & Food Safety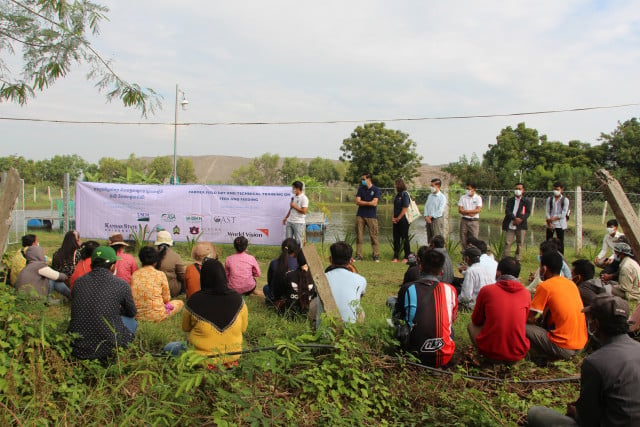 Cambodian consumers can soon view new and reliable information on safe and nutritious Cambodian farm-raised fish.
In December, Commercialization of Aquaculture for Sustainable Trade (CAST) - Cambodia will launch its third campaign to raise awareness about food safety available in Cambodian aquaculture. The educational resources, including videos and social media, will respond to public opinions that CAST identified in its consumer preference study. CAST's research found consumers have questions about the safety of farm-raised fish. At the same time, Cambodian farmers are increasingly growing farm-raised local fish that offers significant nutritional benefits.
The public can engage with the social media campaign. Mr. Khov Kuong, the Deputy Director of Fisheries Administrator of Cambodia, is a guest presenter along with food safety experts and other distinguished guests as well as Khmer social media influencers.
According to Cambodia's Ministry of Agriculture, Forestry and Fisheries, the yield of farmed fish reached 400,400 tons in 2020, a 30% increase compared to 2019. "CAST has worked closely with hundreds of producers, feed distributors, hatcheries, processors, retailers and other relevant businesses in Cambodia's aquaculture industry," said CAST Market Systems Technical Director Adolfo Ruiz.
"CAST's technical support reaches from farmers to marketers, which creates new reasons for Cambodian consumers to increase their trust in local farm-raised fish. We help grow the supply of safe and nutritious fish for consumers."
During the four months of the new campaign which is launched on 20th December 2021, CAST will publish a four-part video series. The first video is the Vox Pop video featuring various people and their opinions on food safety, especially the farm-raised fish. The second video is the reaction of Mr. Khov Kuong, the Deputy Director of Fisheries Administrator Cambodia and the expert of food safety, on the Vox Pop video who responds to public opinions about food safety. The third video offers an animation to describe the concept of food safety and the safety measures practiced in the whole process of aquaculture. The fourth video allows audiences to learn about food safety measures they can adopt before, during and after cooking, including proper storage.
The campaign will also include sharing of food safety information on LED billboards and distribution of new leaflets.
To date, CAST has worked with 1041 members of Cambodia's aquaculture industry, including feed distributors, hatcheries, producers, processors, wholesalers, distributors, of the total, 754 received aquaculture techniques that contribute to sanitary-phytosanitary improvements as well as the marketplace for safe fish. The project will enroll more beneficiaries each year.
CAST is a U.S. Department of Agriculture Food for Progress Project to accelerate production of high-demand fish species for the Cambodian market, develop a lasting aquaculture industry and promote Cambodian-raised fish. CAST strengthens local production of high-quality feed and fish and builds a profitable market system for aquaculture products. Through CAST, Cambodia's private sector and universities work closely with U.S. soybean growers and businesses as well as academic and non-governmental organizations.
For further information, please visit CAST Facebook Page:
https://www.facebook.com/CASTinCambodia
Related Articles