Caught Between Debt and Rising Petrol Prices, Informal Sector Calls for Help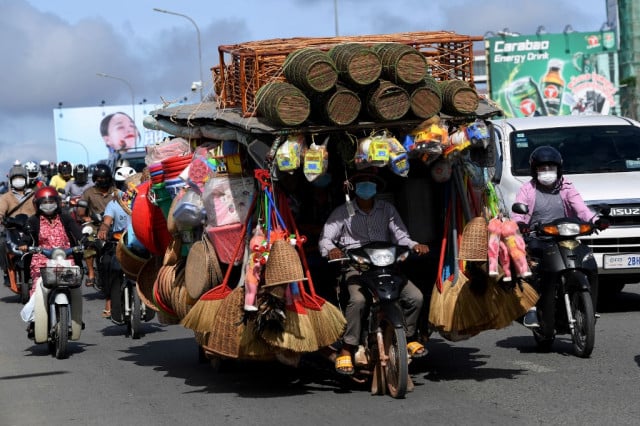 Petrol prices in Cambodia have risen 34 percent in the last year, leaving tuk-tuk and taxi drivers struggling to survive and pay off their debts against the backdrop of a reduced income due to COVID-19
PHNOM PENH--The price of gasoline has risen to more than 4,000 riel, more than $1, per liter, prompting fear among tuk-tuk and motorcycle taxi drivers who have complained of fewer customers and rising debts. Various workers in the informal sector who have been affected by the inflated price of gasoline have called on the government to reduce the cost to 3,000 riel ($0.75) per liter.
Sat outside Olympic Market in Phnom Penh, Heng Sopheaktra has been a PassApp driver since long before COVID-19, but being able to work during the pandemic has meant higher expenses on protective equipment, such as masks and sanitizer. Now, he is worried that the price of gasoline and gas will further increase the financial pressure on his life.
He complained that the price of regular gasoline has gone up to 4,300 riel ($1.05) per liter and gas up to 2,500 riel ($0.60) per liter while he can still only earn 30,000 riel—roughly $7.5—each day.
According to data from the National Bank of Cambodia, the price of petrol climbed 34 percent between July 2020 and July 2021. In February 2021, petrol prices fluctuated from 3,200 riel to 3,500 riel per liter, but a recent spike in the cost of oil barrels has seen Cambodia's petrol cost more per liter, threatening the livelihoods of those reliant on it for work.
For Sopheaktra, the increased cost of doing business has meant he can no longer save money—even his daily expenses have been reduced to ensure he can meet his monthly debt repayments.
"I have to pay more than $200 to the bank monthly," Sopheaktra said. "If there is no money left after totaling for gasoline, gas, and the service of the PassApp Company, I will borrow money from others to pay the bank. Gasoline and gas are expensive! Plus, the road is congested for hours, making it harder to transport the customers, while the PassApp company deducts another 15 percent. What do I have left then?"
Many of Cambodia's tuk-tuk drivers were initially hesitant to join the myriad ride-sharing apps that have sprung up in recent years, but they have steadily become a mainstay for drivers—especially in Phnom Penh. Grab was estimated to charge 12 percent commission fees in 2019 for drivers to operate using their app, while a more recent app, TADA, has touted its zero-commission policy, but has done little to dislodge the supremacy of Grab and to a less extent PassApp.
For Chheang Sinath, the financial pressures of a reduced income and mounting debts have forced him to consider migrating abroad for work or returning to his hometown. He had taken out loans from two banks—one to cover the purchase of his tuk-tuk, another to cover unexpected medical bills—and now needs to pay $300 each month, despite earning somewhere between $150 and $230 each month.
"The price of gasoline has risen to 4,300 riel and in some places 4,500 riel, which is very difficult for us as workers in the informal sector," he said. "In the past, I used to earn 60,000 riel [$15] to 80,000 riel [$20] per day. Now, I can earn only 20,000 riel [$5] to 30,000 riel [$7.5] a day, which hardly covers my daily expenses, let alone my bank debt. I would probably consider selling my tuk-tuk and seek jobs overseas."
As of December 2020, some 2.8 million loans tracked by the Cambodian Microfinance Association were worth $11.8 billion—a figure consisting of both microloans from microfinance institutions (MFIs) and small portfolios from certain banks.
Rights groups LICADHO and Equitable Cambodia released a report in June 2021 that profiled 14 communities from around the country, it found that eating less food, selling land or possessions, as well as child labor and pulling children out of schools were all widespread consequences of microloan debt. Eleven of the 14 communities reported resorting to migrating, while 10 said they were taking out new loans to pay off old ones.
Both Sopheaktra and Sinath said they wanted the government to intervene and for the owners of major gasoline stations to reduce their prices to around 3,000 or 3,500 riel per liter to ease the burden on the nation's informal workers. The United Nations Development Programme in Cambodia estimated that some 93.1 percent of employment in Cambodia is informal, slightly above the 90 percent average of low-income countries.
Vorn Pov, president of the Independent Democracy of Informal Economy Association, said that the gasoline prices should not be increased amid the COVID-19 crisis, which has wrought many financial pressures and problems on Cambodians.
He said the government should take responsibility for the people and lower the price of gasoline to ensure that the citizens have a decent living.
"Such inflation of the gasoline price and the citizens' income are off-balance, which poses a serious threat to informal workers during this time of crisis," he said. "The government should intervene in this matter, particularly with gasoline importers and distributers to facilitate a reduction in prices of gasoline."
The Ministry of Commerce could not be reached for comments.
Chheng Kimlong, director of the Centre for Governance Innovation and Democracy at local think-tank, the Asian Vision Institute (AVI), said rising fuel prices are caused by two factors: Increased demand and sources of supply.
He explained that the increase in demand is due to the resumption of economic activities, investments, and other cultural activities following the success of vaccination drives worldwide. The source of supply, the oil-producing countries, on the other hand, face challenges causing the price of gasoline to surge.
"The government may have a proper management mechanism to make oil prices appropriate for Cambodian society," Kimlong said. "The state normally has subsidies to help reduce oil prices, while they can also urge oil importers to keep the price fixed. If the price has to be increased, they can increase to a minimum price that does not go beyond the global market prices."
Previously, the Ministry of Commerce claimed that the government has never implemented any mechanisms or measures to control the price of imported goods, stating the price is determined by supply and demand rather than government intervention.
Related Articles