CCFC Leaders Released on Bail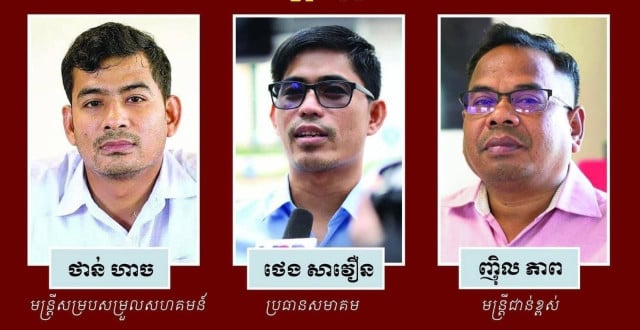 PHNOM PENH – Three staff of the Coalition of Cambodian Farmer Community (CCFC) were released on bail on May 30, after they recorded a video and wrote a letter from prison to 'confess' their alleged guilt.
Theng Savoeun, the association's president; Nhel Pheap, senior organizing officer; and Thann Hach, community facilitator officer, were charged with plotting against the nation and incitement by the Ratanakiri provincial court, under articles 453, 494 and 495 of the criminal code.
Following their release, Theng Savoeun and his colleagues recorded a video to thank Prime Minister Hun Sen and Interior Minister Sar Kheng for letting them out.
While they remain under the supervision of the court, it is worth noting that it is extremely to be released on bail while being charged with incitement and plotting against the nation.
While in pretrial detention, Savoeun wrote an apology letter and made a video in which he admitted the charges against him and asked Hun Sen to intervene to get him and his colleagues out of prison.
However, in the video, his confession remains vague and imprecise. He acknowledged that he had "been connected with foreigners and politicians from the opposition" and that he had done "some actions" that could have led to protests "to overthrow the government", without further details.
He then pledged he would no longer put himself into any activity or join with other individuals and opposition groups against the legitimate government.
The three CCFC staff were detained and questioned by Kratie provincial police on May 17, along with 14 other members of the association.
They were among a group of more than 30 employees on their way back to Phnom Penh after holding a workshop in Ratanakiri.
According to Interior Ministry Spokesperson Khieu Sopheak, authorities believed the gathering aimed to plot a "peasant revolution" with similar characteristics to that which caused the deaths of millions of Cambodians under the Khmer Rouge regime.
Following their arrest, Human Rights Watch Asia Deputy Director Phil Robertson said in a May 19 statement that "the human rights situation in Cambodia is in the midst of a massive, spiraling downturn where any sort of challenge, real or perceived, to the government is met with a maximum display of intimidation and punishment."
"NGOs and civil society groups like CCFC are bearing the brunt of this crackdown."
Related Articles