Centuries-old sandstone naga's head unearthed in Cambodia's famed Angkor Park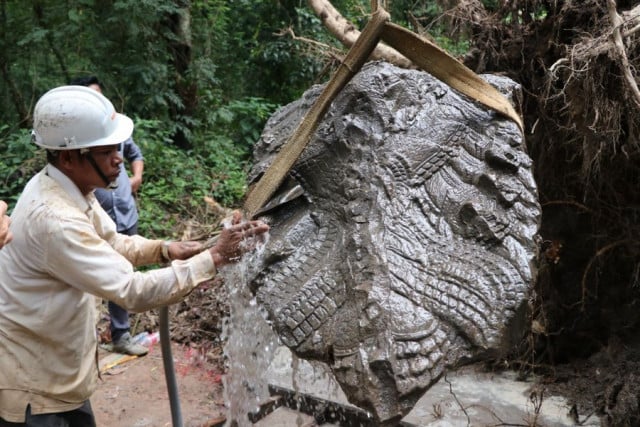 PHNOM PENH -- A centuries-old sandstone naga's head was recently spotted in the vicinity of Tep Pranam temple inside the ancient city of Angkor Thom in Cambodia's famed Angkor Archaeological Park, the APSARA National Authority (ANA) said in a news release on Wednesday.
The naga's head sculpture was found when a large tree fell down, causing the item buried in the ground for many years to emerge from the tree's roots, the ANA said.
Chhouk Somala, head of the art registration team of the ANA's department of conservation of monuments and preventive archaeology, said the naga's head sculpture was buried half a meter deep underground.
"When the tree collapsed, the naga's head sculpture was found in the tree's roots," he said. "The fragment of the naga's head sculpture was the upper head, which was 1.2 meters long, 1 meter wide, and 0.3 meter thick."
Somala said the Bayon style naga's head sculpture might have been built simultaneously with the Bayon temple during the reign of Jayavarman VII in the late 12th century and early 13th century.
According to the ANA, the discovered naga's head sculpture has currently been kept at the Preah Norodom Sihanouk-Angkor Museum.
Located in northwest Cambodia's Siem Reap province, the 401-square-km Angkor Archaeological Park, inscribed on the World Heritage List of the United Nations Educational, Scientific and Cultural Organization (UNESCO) in 1992, is the most popular tourist destination in the Southeast Asian nation.
Prior to the COVID-19 pandemic, the ancient park attracted up to 2.2 million international tourists in 2019, earning a gross revenue of 99 million U.S. dollars from ticket sales, according to the state-owned Angkor Enterprise.
Related Articles