Challenges to Entering a Saturated Market: Online Shops and Delivery Services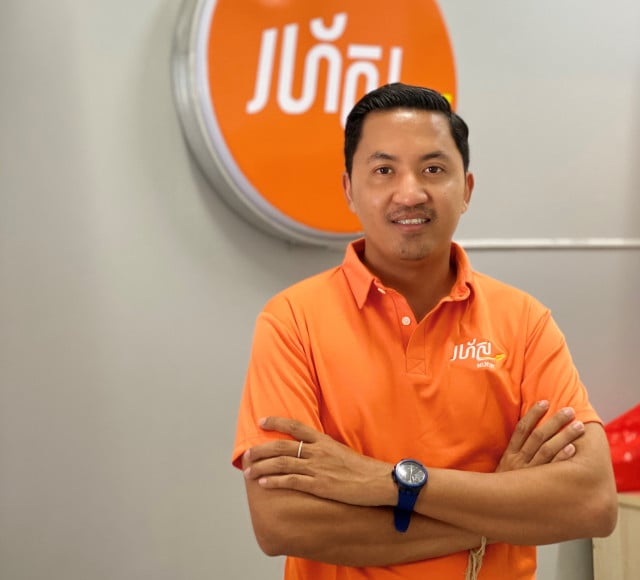 Cambodia's private sector has expanded with the help of multinationals and large-scale foreign investments, but it is still small and medium enterprises (SMEs) that make up the majority of businesses. However, the rush for online businesses has led to a highly saturated market—this is just one of the challenges that Prom Morokot, co-founder of Rohas Delivery, has to contend with.
Ky Chamna: As for now, what prompted you and your team to launch a delivery company in the Cambodian market?
Prom Morokot: First of all, allow me to make a brief introduction about the starting point of our business. My initial intention was to join the business to gain more insights and experiences in the business environment and the logistics sector in Cambodia. Fortunately, one of our shareholders had founded a well-running business similar to what we had envisioned and it was available for transfer.
From that point on, we decided to invest. There were quite a few motivating factors for our investment. The pace of growth seen in online businesses and the limited amount of capital required to get set up helped. We recognized the importance of clear planning, human resource management and marketing strategies in competing against other online businesses, but for us the business acts as a platform—a classroom even—for us to better prepare for entering the business field. Ideally, we want to create more decent opportunities for Cambodians.
Ky Chamna: In Cambodia, the competition in the delivery market has become more intense as more players have entered, how does your business cope with this trend?
Prom Morokot: It is true that delivery services have been growing rapidly to meet the market demand in the last two years, especially in the capital city of Phnom Penh where around 1.5 million residents are based. According to our market research, there are no less than 50 delivery service providers some of which have already closed down in Phnom Penh. The COVID-19 pandemic has showed us how important and dynamic competition in this sector really is. Before I continue, I would like emphasize that our company only delivers parcels and preserved foods, excluding food and express delivery. Therefore, in order to stand in the market, we have set out several of goals and targets. Beginning with the enhancement of the capacity of our employees, we aim to promote the sense of responsibility with the understanding of the company's core values. Making improvement toward the partnership quality with clients, especially those in online businesses by creating new features such as Cash on Delivery, Daily Money Transfer and free stocking service. Speaking of feedback, we constantly receive constructive comments from our customers to improve and develop our firm alongside our research and study on the competitors as a way to assess our business strategy and to create improvements.
Ky Chamna: Apart from making deliveries, your business also sells various day-to-day items, so how does this differ from your competitors?
Prom Morokot: Of course, we have just launched the online store in September 2020 when we inaugurated our new head office. The new online store is called "Phsar Rohas" or "Swift Market." Phsar Rohas, which is a part of Rohas Delivery, is an online store with a wide range of daily products on sale. The creation of this new store is to offer quality products with affordable price to general clients. Beyond that, clients can place orders and receive free and express delivery in less than one hour within our shortest designated delivery zone.
Ky Chamna: What is your strategy for surviving in a crowded market? Do you think the e-market will overtake the traditional, or shall I say, physical market anytime soon?
Prom Morokot: My number one strategic tool is to build a strong team which is united as one. Among our staff there is a sense of providing a good service for our customers. Once you have constructed a strong team, you will be able to go through hard times. Apart from that is the urge to keep making improvements on our service through constantly listening to feedback, conducting studies of the market to keep high customer satisfaction. Last but not least, it is to look outward by building partners in the country and in the region. In order to grow, we need to be highly flexible and cooperative with those who share common values. With all this optimism is mind, the e-market has become a game changer.
Related Articles