Chapei Dong Veng "Drives" Nou Samnang Back to School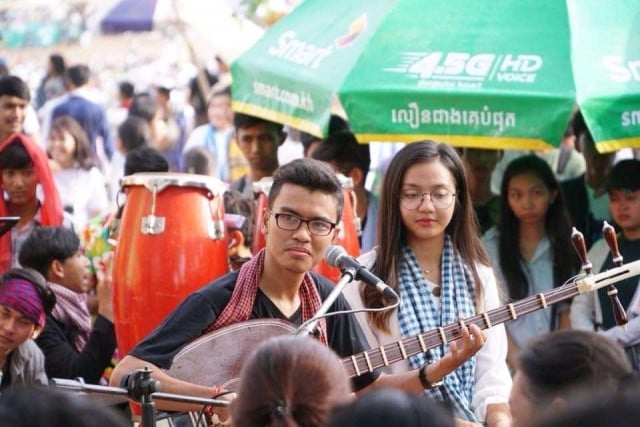 Ky Chamna 
May 6, 2020 2:17 AM
One of Cambodia's leading artists of this traditional artform says he learnt the value of education through people he met when performing
PHNOM PENH--After mastering chapei dong veng—a Khmer artform consisting of a singer accompanying himself on a string instrument—Nou Samnang came to realize the importance of education even though it seemed too late for him. Originally from Kandal province, he had fallen in love with Khmer traditional music, dropped out of school in his village and moved to Phnom Penh to study music. How come did chapei dong veng change his perception of education? Ky Chamna, journalist at Thmey Thmey, has interviewed the 27-year-old artist about his journey and his determination to keep the chapei dong veng tradition alive and vibrant. (This artform was inscribed in 2016 on the Unesco's List of Intangible Cultural Heritage in Need of Urgent Safeguarding.)
Ky Chamna: You are a bit different from other young Cambodians. Well-known for your talent in chapei dong veng, you have performed at many official events both nationally and internationally. When did you start playing this instrument and why?
Nou Samnang: I fell in love with Khmer traditional music when I was in primary school back in my village. However, there hardly were any class in the village that could offer that kind of music training. So in 2010, I came to live in Phnom Penh, hoping to study music. It took me another three years—until 2013—to find the music school [at the NGO] Cambodian Living Arts (CLA) where I started learning Khmer traditional music. From that point on, chapei dong veng became my favorite instrument.
Ky Chamna: You are a multi-instrumentalist. What are the other instruments that you play?
Nou Samnang: The main instrument I play is chapei dong veng. This instrument has brought me a lot of attention. I also play the Khmer flute, although I'm not very good at that even though I still can play with bands. Since I also need to understand the music language, I decided to pick up skills in violin.
Ky Chamna: How long did it take you to learn those instruments?
Nou Samnang: Around three months. Learning chapei, I will admit it, was very hard at the beginning. It demands not just to produce sound but to sing as well a chapei song you improvise. Your hand, your brain and the chapei instrument have to be able to understand one another very clearly as to the music notes or the kind of music you're trying to play. Another hard part is singing a chapei song, and that is where many chapei musicians give up their training. Chapei songs demand very specific structure and rhythms. Most of the time, you cannot prepare the lyrics in advance. You just have to spontaneously compose the lyrics and sing as you see what is in front of you.
Ky Chamna: How did you practice chapei?
Nou Samnang; I, along with many other students, were mentored by a music teacher, Pich Sarath. In addition, I also spent lots of time practicing by myself. I listened to old chapei songs every night and sang along. The mentor just taught me some of the parts and directed me which way to follow.
Ky Chamna: Since your first day of studying chapei, how long did it take you to be able to perform at an official event?
Nou Samnang: After studying and performing at some smaller events, I was invited to demonstrate my chapei skills at an official event in Singapore. Some other Chapei students were not able to reach this level of ability within three months.
Ky Chamna: After coming to Phnom Penh and being invited to perform at various performances and events, how has this skill effected your life as a chapei performer?
Nou Samnang: My life in the village was an absolute struggle. I decided to come to Phnom Penh in 2010 because I was young. I wanted to see the city, I wanted to see the colorful lights, and I just wanted to see what Phnom Penh really looked like. Why did many people want to come to Phnom Penh to work and to live? So, I decided to quit school. I quit when I was in grade 9 and this was the wrong decision [that has affected me] until today. After joining the art world in 2013, I started to realize that the society is full of educated people. They attend school and they value the importance of knowledge. My chapei dong veng actually woke me up. When I perform with my chapei, I usually travel to places like Phnom Penh and other provinces. It helps me to know what the outside world talks about in the different contexts. It seems to bring me to a new world, a real world. My decision to quit school was actually a mistake. My chapei showed me my mistake. What I've seen outside my hometown has motivated me to go back to studying up to university, even though I'm 27 years old—the oldest in the class.
Ky Chamna: How significant is chapei for your livelihood?
Nou Samnang: If I depend on chapei for my income, I won't have enough to buy rice to fill my stomach. If I only focus on chapei, based on today's demand, I can't make a living out of it and I might, perhaps, starve to death.
Ky Chamna: Why?
Nou Samnang: From year to year, there is not much demand for chapei performances. If there are requests, it's usually for events at pagodas. Among this new generation, some youngsters don't really seem to support traditional music. Some say it's out of date, it's not modern. Most of the events are humanitarian and charity events. Those events don't provide me with much money, since they are social activities. However, chapei has given me the opportunity to make connections and meet many people in society. After performing for a year, I started to know many people. They added me on Facebook. I received compliments and was invited for meals.
Ky Chamna: Amidst all the foreign music having an influence on Cambodian culture, what is your thought on the importance and value of Khmer traditional music?
Nou Samnang: This is my just opinion. Normally, nations with stronger economy will have more influence over the others. However, what's important is individuals like you, me and all citizens. If everyone tries to protect it, then we won't lose it. This is very important. We have our own identity. Why don't we protect it? Why do we try to protect others' identity? It is our image to the world. When I play chapei with my foreign friends, they don't only know who I am, but they also know our country. I don't mean to stop anyone from supporting any other cultures. However, never let go our culture: It belongs to all of us. If we don't try to preserve it, someone will try to steal it from us. Then, we would feel disappointed or angry. I, alone, can't protect it. It needs all of us to do it. Many traditional artists are not making a good living. For example, yike or ayaiy performances: There aren't many requests for them.
Ky Chamna: In spite of all these difficulties, do you still want to pursue the art of chapei in the future?
Nou Samnang: For the art of chapei, even though there is zero demand, I will always have the chapei instrument by my side. At least I can play it for my children or my relatives. Chapei has helped me a lot in terms of jobs, education, and financials. It has provided me with necessities. Yet, I still need to have a core occupation to make a living. As I have mentioned earlier, chapei cannot provide me with much of an income. However, I still perform and share my knowledge about chapei in my free time. I won't abandon it. Sometimes, I teach people to play chapei for free.


Because of my talent in chapei, I can get some artist's scholarships to help me pay some of my school fees. I was hired as a receptionist at a music school because of my talent. Even though I don't have an actual diploma, I also receive many sponsorships from people who know me through my [chapei] talent [and want] to help me pay my university fees. I was invited to perform in front of [King Norodom Sihamoni] and the former US ambassador to Cambodia, all because of my chapei.
Ky Chamna: Do you have any last words you would like to share with our readers or, most importantly, with future Khmer traditional musicians?
Nou Samnang: I just want to mention that this is all I can do. I, myself, can't help [traditional music] grow. It demands cooperation from everyone for our musical culture to keep on growing. I suggest that everyone should learn music. It doesn't matter if it's traditional or modern. If you learn traditional music, you help preserve our culture at the same time. Music also helps us communicate. It can help us cut down stress or even improve your mental health. What's also important is that, because of the influence of music, one good song can make you very famous. I really hope that everyone will support our culture, not just chapei but also other cultural [styles or forms] as well. Even if you decide not to learn, at least you can try to protect it.


Nou Samnang also volunteers to help train, for free, people interested in learning chapei dong veng, time permitting. He also volunteers to answer questions regarding the learning of Khmer traditional music. He can be reached at:

Facebook: Samnang Nou

E-mail: [email protected]

Mobile phone number: 016-678-370
Related Articles
October 31, 2022 10:25 AM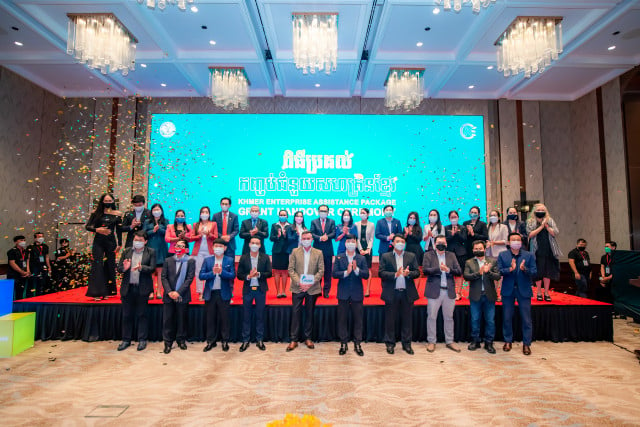 February 26, 2022 9:28 AM