Chapter and Verse for Writing Competitions Winners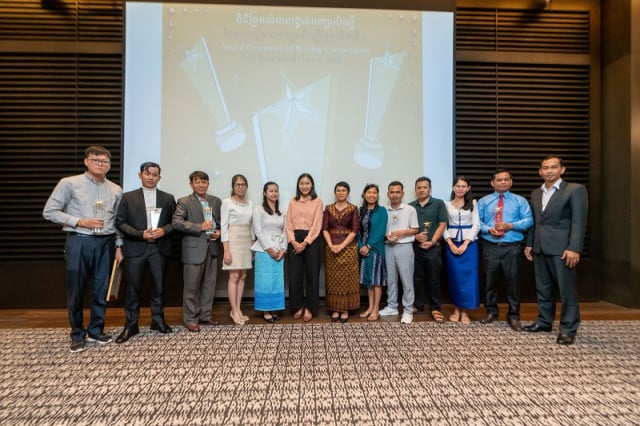 PHNOM PENH – Prey Veng province writer Vann Sareth has won first prize for his "(Fiddle) Tro's voice to lull the Temple" work in the poetry section of the 5th Khmer Literature Festival Competition.
No first prize was picked in the short story section but second prize went to Eam Tith Seiha, the author of "Stream". Third place was shared by Sun Vichay Chetra for "Who is on the bed?" and Chea Tong Hay for "After the Rain".
The short story also had two honorary winners: Hul Lina, author of "Stir Fried Rice Drops" and "The Spirit " by Kem Chan Bopha.
Second prize for a poem went to Lek Sothear for "Tale of Tiger" and third prize went to Huot Veasna for "Coffee Table Forum". Two other poems won honorary titles, including "Literature's Weep" by Heng Mien Mien and "Umbrella" by Lim Phanna.
Ten candidates took prizes in the competition, with five best short story and five best poem awards.
The competition aims to contribute to the promotion of national literature and encourage Cambodian poets and writers.
Festival managing director Khuth Sikhoeun said there were many more competitors this year than in previous years, but he wanted more outreach and private sector support. This year's event was backed by the Rosewood Phnom Penh Hotel.
"Next year, we will also have a literary competition like this year, and hopefully there will be more from the private sector or philanthropists to support or sponsor the winners," he said.
He also encouraged young Cambodians to participate in competitions under the auspices of the Khmer Literature Festival.
This is the fifth time that the short story and poetry competition of the Khmer Literature Festival has been organized, with nearly 200 people taking part. The competition was launched in 2018.
Of this year's entries, 54 short stories and 79 poems were selected for evaluation.


Originally written in Khmer for ThmeyThmey, this story was translated by Sam Sopich for Cambodianess.
Related Articles
November 26, 2023 11:10 AM