Chea Maysaros: From Accounting Student to UN Blue Helmet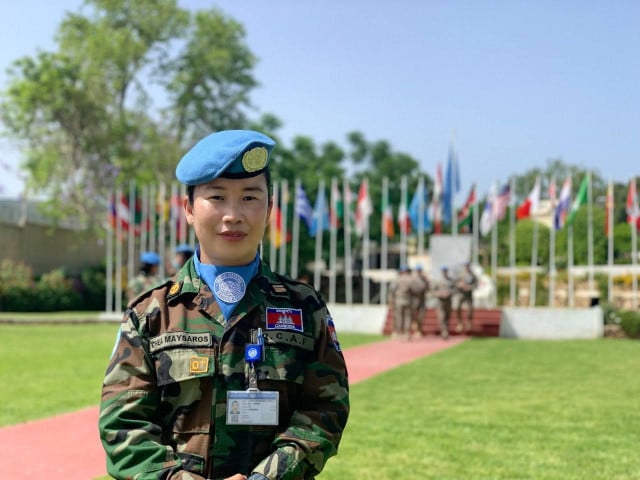 PHNOM PENH – After twelve years involved in the Cambodian military, with several missions abroad as a blue helmet for the United Nations (U.N.), one can say that Chea Maysaros is a hard nut to crack. Overcoming obstacles, undergoing rigorous training and fulfilling personal missions are all tasks she has been doing relentlessly in her professional life, showing the courage of Cambodian women and their important role for humanity.
Chea Maysaros is one among many other female blue helmet soldiers serving in the National Centre for Peacekeeping Forces Management, Mines and Explosive Remnants of War Clearance (NPMEC). She is also serving in the Cambodian military, an environment still largely dominated by men, where women still have to make their way, despite the increasing number of female soldiers, which slowly paves the way to greater gender equality.
The Cambodian blue helmets are military personnel who go on peacekeeping missions abroad under the auspices of the U.N. NPMEC has sent both male and female personnel for missions in conflict-ridden countries such as Sudan, South Sudan, Lebanon, Cyprus, Mali, Central Africa, Yemen, Syria and Chad, where their primary goal was to remove landmines from the ground.


Chea Maysaros has been serving in various missions. Photo provided by Chea Maysaros

Maysaros wasn't meant to serve in the Cambodian military. She was first a student at the Asia-Euro University, studying accounting from 2008 to 2012, after she had obtained a degree in English language in 2005. She dedicated some of her spare time to work as a guide for foreigners visiting Cambodia.
But in 2010, her life took a new direction when Cambodia hosted "Angkor Sentinel 2010", an international military exercise. Maysaros suddenly got inspired and felt that she wanted to serve her country and test her own personal capacities. She decided to apply for a position with the military police in the Ministry of National Defense the same year, predicting that the job would allow her to travel abroad while challenging her ability in a male-dominated field.
"I thought that joining the military was a new experience besides my private work. And I had a strong belief that I could do it," she said
She had to first go through a number of tests, ranging from general knowledge to English language skills and physical capacities, but passed them all hands down.
Following the exam, Maysaros had to undergo armed force basic training and received additional education in legal training, ethics and military exercises inside and outside the country.
"At first it was difficult because I had to get up at 4 a.m. every morning to do exercise. After breakfast, it was time to practice military conduct and weapons exercises. In other words, there was no time to rest, because everyone had to follow the rules and to wear the uniform, no one could take off their shoes or uniform at will."
In addition to the difficulties on the training ground, the now 38-year-old Siem Reap resident also encountered some challenges while going on missions abroad. In 2012 and 2013, she was selected to join the U.N. peacekeeping mission to South Sudan. And in 2021, she went on another peacekeeping mission to Lebanon where she was in charge of food management and demining farmland and residential areas along the Israeli border.
"I faced a number of challenges: patrolling in unsafe areas, sleeping in tents in villages for a lengthy time, lacking water and restrooms during patrols, and dealing with risk of harassment and other harms," said Maysaros, who is a lieutenant colonel and deputy director of Human Resource Management and Training of NPMEC.
Proud to be a female blue helmet in peacekeeping missions
Despite the risks a military life involves, Maysaros' parents are proud of what she has done to contribute to peacekeeping in and out Cambodia, feeling that she contributed to raise the honor of the family.
This job has helped her gain new work experiences and better apprehended cultures from other countries. She also got to participate in various humanitarian works and spread values of peace to other nations.
"I am very proud to be wearing a Cambodian army uniform to participate at an international level with other countries under U.N. peacekeeping missions."


Chea Maysaros is a lieutenant colonel and deputy director of Human Resource Management and Training of NPMEC. Photo provided by Chea Maysaros

She added that "women's participation in the Cambodian military reflects the courage, heroism and resilience of women without fear of exhaustion on the training ground. Confidence overcomes all obstacles to achieve good results. Just like men, women can do anything!"
She encouraged more women to get involved in the military to show their abilities and resilience. "Women can work like men in all kinds of jobs, in all institutions, whether it is the public or private sector, in national or international organizations, in security, diplomacy, or politics," she pointed out.
According to NPMEC, Cambodia has deployed nearly 8,302 peacekeepers, including 580 women, to nine countries since 2006. The country also plans to increase the number of female peacekeepers to 20 percent by 2024, from 14 percent today, as reported by the U.N. Women Asia and the Pacific.
Originally written in Khmer for ThmeyThmey, this story was translated by Kheav Moro Kot for Cambodianess.
Related Articles