Check Police and Officials' Backgrounds: Analysts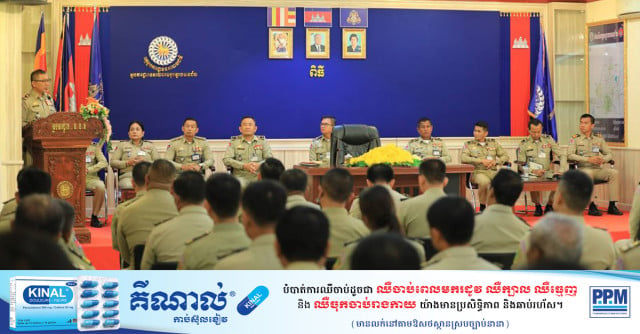 PHNOM PENH – Background checks should be carried out on officials and police to ensure their good character before they are hired or promoted, social analysts say.
The suggestion came after recent demotions of a lieutenant colonel in Kampot and a lieutenant in Kampong Thom.
These led PM Hun Manet to order investigations of officials before promotions at civil institutions and the military at subnational and national levels.
Yong Kim Eng, president of the People Center for Development and Peace, supported the procedure and said it should be implemented for all officials and national police, not only case-by-case.
"It should be done equally in all institutions, keeping only the ones who actually serve citizens and fulfill their duties as civil servants," he said. "It's necessary to apply a common mechanism without double standards."
San Chey, executive director of the Affiliated Network for Social Accountability (ANSA), said a long-term or permanent mechanism was needed in setting criteria for officials or police before appointment or promotion.
The evaluation should determine who are accepted for important positions, who should stay in positions and who should be fired for discipline violations. There should be common written principles for the criteria, Chey said.
"Otherwise, it'll be just case-by-case about which the high-ups find out only after being informed or criticized on the matter disposed of," he said.
"We want to see more specific conditions for such positions and the implementation of the mechanism, or we'll just spend our time doing the same thing because this kind of case happens again."
Cambodian Institute for Democracy president Pa Chanroeun also supported such a mechanism. He said officials and national police have to be chosen carefully based on an evaluation of their character and clean record.
"If the government is really committed, there should be a reform in promotions among the officials and national police," he said.
"Therefore, the relevant ministries or authorities should investigate or evaluate clearly whether officials or national police are involved in any crime and how serious/severe the crime is, then proceed to the punishment.
"It'll strengthen the justice and security in the society."
Chanroeun said that in a modern administration system, positive reinforcement encourages officials to work effectively. However, they can be fired or demoted if found guilty or involved in crimes or violating discipline.
On Sept. 12, Interior Minister Sar Sokha demoted Lieutenant Colonel Heng Hab to the level of official for violating the National Police Force discipline. Hab had been appointed as Deputy Commissioner of Kampot Provincial Police a day earlier,
The decision was made following a big wave of criticism from the public, as Hab stole an iPad in 2019 from a shop in Khan Toul Kork when he was working at the Maritime Police Department.
Hab was summoned to sign a contract responsible for the action. Then National Police Chief Neth Savoeun, however, ordered the police to build a case and transferred Hab to the court, following the public's dissatisfaction.
On Sept. 11, the General Commissariat of National Police demoted Lieutenant Hong Sarom from his job as Commune Police Chief of Kampong Thom province to an official level, also over a discipline violation.
The decision was made after PM Hun Manet ordered the National Police to investigate the appointment after he had been informed about Lieutenant Hong Sarom who was said to have been involved in a robbery in 2015.
In August, Interior Minister Sar Sokha set out seven principles for the National Police to strengthen the police performance.
The last principle aims to promote the reform of the National Police by focusing on capacity building, skill and professionalism enhancement, principle obedience, and recruitment strengthening.
The minister said promotions would be based on character, achievements and work experience.
Related Articles