Children Need More Mental Health Support during Lockdown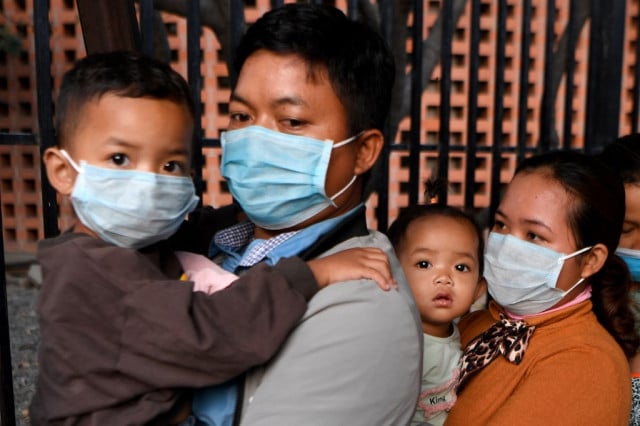 Sao Phal Niseiy and Sao Sokeng
April 27, 2021 12:45 PM
Evidence is mounting that the pandemic has hampered children's development and researchers are warning that parents need to help keep children engaged as much as possible during lockdown.
PHNOM PENH--As lockdowns have been introduced in Cambodia to curb the spread of COVID-19, it has not only created hardships for thousands of vulnerable communities, but it has also greatly affected children's mental health and social skills.
As schools have closed and reopened, only to close again, many parents have been struggling to cope with a decline or loss in income while trying to help their children learn during the pandemic.
Lyza Alin, who has two children, lives in a rented house within the government-designated red zone in a Stung Mean Chey 2, Mean Chey District in Phnom Penh. She expressed her deep concern as her children struggle to study, particularly after losing all her income since the restaurant she worked in closed.
"Only one of my children can study right now, my other child's teacher is sick," Alin said, pointing out that she observed abnormal behavior in her children.
They appear distracted, depressed and unable to concentrate on their studies, she said.
"Both of them may have complicated feelings. They sometimes don't want to study and show how unhappy they are. They could not go anywhere, just play at home where they can't eat much," she explained.
Alin said he is committed to helping her children and is trying to engage them in other activities like painting to relieve their stress.
"I want my children to learn better and have more knowledge because I am deeply concerned that when schools resume, my kids won't be able to move to higher levels of education. Therefore, I will try as much as possible to help them learn," she stressed.
She is not alone in noticing the impact that a year of uncertainty and disruption has had on young children trapped in the house.
Balancing Education and Mental Wellbeing
Meas Sophea, who resides in a rented room in Phnom Penh's Russey Keo District also articulated her exasperation with her family's deteriorating condition since the Feb. 20 outbreak.
Having a nine-year-old daughter, Sophea said she has only one smartphone, which has been for personal use and for her child to study online. But as life has been getting rougher day-by-day, she has been contemplating selling her phone to meet the daily end meets.
"I only have this one phone for my child to study with her teachers. When I don't have money sometimes, I really want to sell it off. But I think again that, if I sell it, my kid will not be able to study," she said.
In Kandal Province's Ang Snuol District, Raksmey Khema is having similar problems. Her restaurant job has not had any work for weeks now and she has a 10-month-old child to support, along with her son and nephew who are both aged 5. She has struggled to keep them learning online during the pandemic while schools are closed.
"My son and nephew take online classes three times a week, but I don't have much time to assist or stay close to them as I have to look after my baby and also take care the housework," Khema said, adding that both her son and her nephew have become more stubborn and short-tempered.
She said, "It is more difficult to talk with and teach them. Maybe because they can't go out and they become more exasperated."
Children Need Greater Support During and After Lockdowns
This comes after researchers in the United Kingdom found that there is growing evidence to suggest that lockdowns and COVID-19 restrictions have had a profound impact on the social skills and emotional intelligence of children, particularly those under the age of 5.
"For example, if children are not able to have a creative play with other children, learning to empathise, compromise and manage their emotions, language development and social communication is likely to be affected too. Indeed, it has been shown that children with higher social cognition do better in secondary school," researchers wrote in February 2021.
A study of 50,000 students across 58 primary schools in the UK found that 76 percent of those starting the new academic year in September 2020 needed more help with communicating, with 96 percent of the schools involved voicing concerns about the speech and language skills of students after lockdown.
Speaking of the mental wellbeing of the children, a counselling psychologist, Hoeur Sethul, agreed that under difficult circumstance like the COVID-19 lockdown, children have been affected as much as adults. Therefore, he said, there have been abnormal changes in their behaviors including distraction or a lack of attentiveness.
As the founder of Khmer Counselling Psycho-Education Services and president of the Cambodia Association for Counsellors and Psychologists, he cited a study by Save the Children in Cambodia that found up to 70 percent of children surveyed have been experiencing emotional disturbs.
"The impacts on them [children] have been overlooked but they have been greatly affected. They are just like us adults who have been depressed and emotionally stressed as they can't go to schools," Sethul said, adding that children have been confused by the disruption of their studies and daily activities.
As a psychologist, Sethul has advised that parents should pay more attention and do more to help their children relieve tension as well as to ensure their physical and mental wellness, especially for small children under the age of 10.
"It is critical that parents can help their children learn during this public health crisis even though they are not knowledgeable enough, they still stay close to them to encourage or provide them emotional support," he said, adding that simply providing the technology isn't enough.
"They just buy their children smartphones or personal computers, perceiving that it is enough. But it actually doesn't mean that. They need more than this," he stressed.
Preparing for the Post-Pandemic World
Additionally, Sethul worries that parents need to think beyond the current situation as the post-pandemic world will be even more challenging for children.
"They need to think in advance and get prepared for how we can stand up again after this storm so that we can embolden and support our children to study better," Sethul said.
Ros Soveacha, spokesperson for the Education Ministry, said that the ministry has been appealing to parents to spend more time with their children and teach them as much as they possibly can during this period.
"Parents continue to support their children's online studies as well as use other tools like reading or other types of new learning activities during this time. Based on the actual situation, they should read for their children and choose books and other digital documents for their children to learn," Soveacha said.
While children need more support in online learning, Sethul explained that it is also essential that parents can prepare some stress-reducing activities for their children.
This could include getting them involved with some kitchen work, painting pictures, singing, playing musical instruments, gardening as well as telling them old stories or past memories.
"Even an hour or half an hour a day can be helpful for them during this period," he explained.
In addition to the parental support, Sethul went on to say that other stakeholders like the government also have a responsibility to help support children mentally cope with the situation while keeping them healthy.
"Not only protecting their mental wellbeing, but also physical health is really imperative for children during this crisis. Other relevant ministries like Ministry of Social Affairs, Ministry of Health and Education have its part to do. For example, psychosocial support programs should be created and awareness raising on types of nutritious foods for kids during this circumstance should also be promoted," he emphasized.
But he acknowledged that during this time of crisis, everyone has been affected and different parents will have different abilities to meet these responsibilities and provide for their families.
Related Articles