Chin Meas – a Writer and Poet Encourages Future Writers to Just Sit Down and Write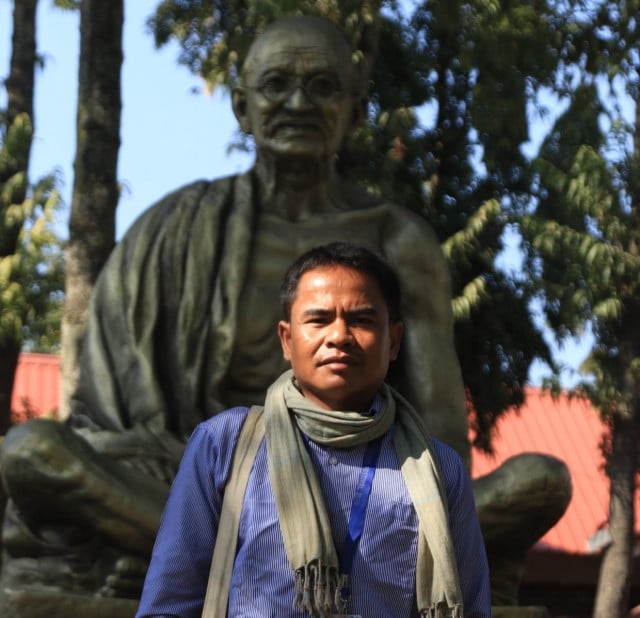 December 16, 2021 2:21 PM
While one may not make a living at it, it is important to reflect today in books and poems, this award-winning writer says
SIEM REAP--Poet Chin Meas was a Buddhist monk for 15 years, and this often is reflected in his writing and readiness to teach what he knows about writing.
A respected poet and writer both in the country and overseas, he has won several literary awards in Cambodia and was one of the four Cambodian writers invited to attend the Brahmaputra Literary Festival in Guwahati, India, in 2019.
His poem entitled "Inherited House" was translated into English and included in the prestigious Princeton Encyclopedia of Poetry and Poetics book published by Princeton University in the United States. "Chin Meas…understated symbolism gives his poetry particular poignancy," Asian and Cambodian literature scholar Teri Yamada wrote in the book.
But as for many artists and writers throughout the world who work in other fields to make a living, the pandemic has been a very difficult time for him. Living with his wife and two children in Siem Reap City where he has been selling fried noodles on the street, COVID-19 virtually put an end to his livelihood. In 2020, Meas had no income for nearly the whole year, he said. And in 2021, he said, "I stopped selling during April and I've just restarted my business on Nov. 18." So, life has been quite difficult, he said.
And yet, Meas has kept on writing and promoting Khmer poetry and literature both in the country and on the international stage. "I won't give up on my writing," he said. Plus, he always finds time to encourage others to write.
A Teacher Ready to Share
Born in September 1980 in Kampong Cham Province, Meas was first immersed in the rules and forms of traditional poetry while he was a monk at a pagoda. However, he loves writing in free form and suggesting ideas through images rather than writing traditional poetry with its complex rules and structures.
A teacher at heart, Meas always accepts when a person or organization invites him to speak of writing and poetry.
Invited to take part in the Angkor International Festival of the Arts held in Siem Reap City on Dec. 10 through 12, he said, "I stopped selling [noodles] when I was invited. I never wondered if I would get paid or not… I do not want to be famous or want to show that I'm a great one: I love social work since I was a monk."
Speaking during the session "[c]reating Verse in Cambodia" on Dec. 11, Meas said that poetry is the language of the heart based on one's life experience and all the feelings this triggers, whether this makes a person sad or happy, romantic, thrilled, shocked, pressured or regretful.
"Anything written or spoken that says and expresses deep feelings is a poem," he said.
Meas's advice to those wishing to write poetry was to just start writing without thinking too much about traditional poetry forms, which focus a great deal on structure, rhythm, meter, chanting tone, limiting word choices and sentence structures, which can make it hard for poets to express specific feelings.
Poets or would-be poets can try with free form for verse or prose, such as in the Cambodian form Kamroung Keo, which literally means a bunch of words without form but in which is maintained some rhyme and slant rhyme, with words that can be sharp and from the heart evoking a perspective, Meas explained.
But first, Meas told participants, people must learn and try to understand the 12 master forms in Khmer poetry. Set during Cambodia's three historical periods, which are the pre-Angkorian, Angkorian and post-Angkorian eras, these forms currently include nearly 66 sub-forms, he said. At least so far, Meas added.
Being Inspired by the Masters' Works and then Moving Forward
"From generation to generation, poets and writers always evolve their writing styles based on the society they live in," he explained. So while Cambodian writers in other times created many forms of Khmer poetry, this does not mean they would not allow today's poets and writers to develop new ones, he said.
After learning and writing in the style of Cambodian masterpieces of the past, today's writers should try to go further than what poets and writers achieved during those eras, Meas said.
"When we were young, our parents tried to teach us to walk by holding our hands or supporting us in many ways," he said. "They expected us to one day grow up and be independent from them. Then we could walk, run, jump, and do many things without needing their support anymore…[Parents] would be very upset if their children would get older but never grow up, still unable to walk by themselves and still needing support from them.
This said, Meas stressed, "we also never turn away from our ancestor's masterpieces: We can learn and develop through them."
Classic Training Leading to a Long List of Achievements and Published Works
Chin Meas holds a bachelor's degree in Khmer Literature as well as a degree in Buddhist teaching. During nearly 15 years as a Buddhist monk, he taught fellow monks Buddhist ideals. Since founding the Rural Writers Association, he has donated time to hold free literature classes for students to learn about novels and poetry.
Meas's contemporary-style poetry has led him to receive the Nou Hach Literary Association award several times: in 2007 for The Inherited House, Raining in the Wrong Place, Rahul Chab Chan (Luna Eclipse); in 2008 for Lettuce, Rooster, Flowers; and in 2009, for The Supporting Actor, The Flowers Outside Vase, The Toothpick, The Walking Cane and The Pocket.
In 2011, Meas's book Water Drop containing 60 poems was released. Then in October 2016, some of his poems along with the work of four other poets was published in the book "The Shadow" in both Khmer and English.
Works Awaiting a Publisher
Today, Chin Meas keeps on writing. He currently has more than 100 poems ready for publication plus many more in draft form. Moreover, he has written several books on the teaching of the Buddha.
All these works are ready to be published, which Meas does not have the resources to do. "If anyone is interested, I am happy to discuss," he said with a smile.
Poems by Chin Meas
"Raining in the wrong place"
The entire sky is filled with smoke,

The sun attempts to shine through,

There is no rain anywhere,

The grass and the trees are nearly dead.
Everything is trying to survive without water,

Waiting for a better time,

Hoping for the rain to come,

And make everything better.
But when the rain comes,

It falls somewhere else,

The wind arises,

And blows the rain to the sea.
It is raining all the time on the ocean,

But the field and forest are dying too soon,

The wild wind blows the rain from the land,

Taking it to the sea.
There is never any water for the land,

No rain from the clouds,

The sky keeps silent,

Nothing gets better.
Translated by Teri Shaffer Yamada
--------------------------------------------------------------------------------------



To Poet Santhor Mok
After reading your "Ko Tonsaong[1],"
where you describe wild oxen eating
grass, weeds, and leaves, sharing harmoniously
and drinking from the stream,
I struggle to imagine seeing such a thing.
I feel sadness, for I know that now
the oxen eat all. If you could see,
you would feel such grief.

They eat mountains and forests, minerals and land,
all kinds of fish, pebbles and sand,
marble and rock, lakes and rivers.
Please understand.
Translated by Emily Howe
---
[1] Ko Tonsaong means "wild oxen."
Related Articles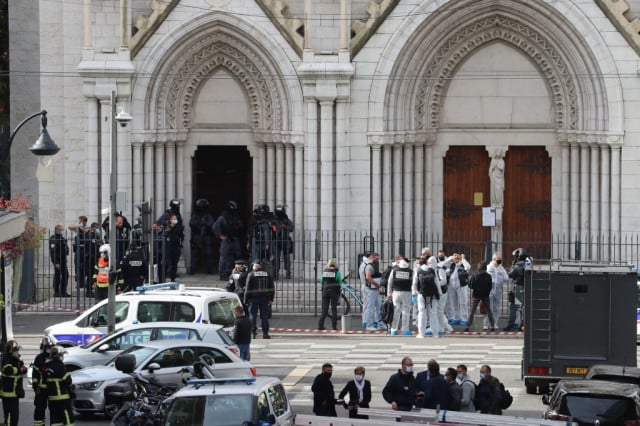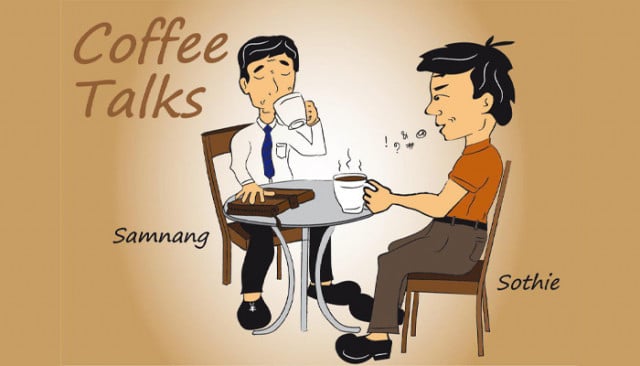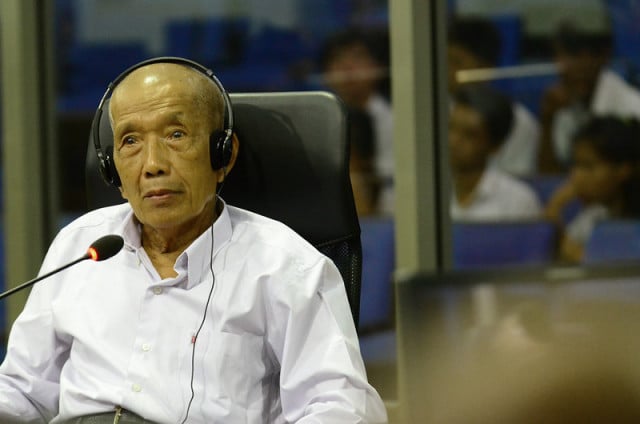 September 2, 2020 2:15 AM